ALIEN ASPECTS II, 2023
3 Monoprints in hand-bound folio, printed on 250gsm Somerset paper.
Series of 4
ALIEN ASPECTS, 2022
3 Monoprints in hand-bound folio, printed on 250gsm Somerset paper.
Series of 4
EXCLUSION ZONES, 2017

Aquatint and etching, concertina structure artist book. Hand-printed on Japon paper by Sophie Westerman.

21x15cm (closed)

Edition of 5 (+APs)

Exclusion Zones is a series of 3 images that focus on the current mismanagement of native forests in East Gippsland, Victoria, where activists have long been working to detect, locate and record the presence of threatened species including the Greater Glider and the critically endangered Orbost Spiny Crayfish in order to protect areas marked for logging by VicForests. Recent efforts have seen the temporary closure of several logging sites until further notice on the basis of environmental regulation breaches, while activists are also being prosecuted for entering exclusion zones illegally to record the presence of native wildlife whose limited remaining habitat is being destroyed. The final image is of a logged site on Mt Kuark - an area conservationists hope to protect indefinitely.
REMNANT, 2022

Etching, aquatint, sugarlift, chin colle.
Concertina structure artist book, hand-bound and printed by the artist on 250gsm Somerset paper.

Edition of 5




LOST DIRECTIONS, 2019
Concertina structure artist book, hand-coloured sugarlift, aquatint, etching on Arches Velin 300gsm with monotype cover. 35 x 20cm, edition of 5
Lost Directions
was inspired by the
Djab Wurrung Protection Embassy
and the incredible work they are doing connecting people to culture and protecting sacred land from the ongoing genocide of white Australia. Djab Wurrung is still at risk of eviction, 16 months after the blockade camps were first established. Thank you to Zellanach for giving permission to document my experience through the creation of these images. All profits from the sale of this book go to the Djab Wurrung Protection Embassy.
Lost Directions
was made on the stolen lands of the Wurundgeri people. Sovereignty has never been ceded.
Full description
here
.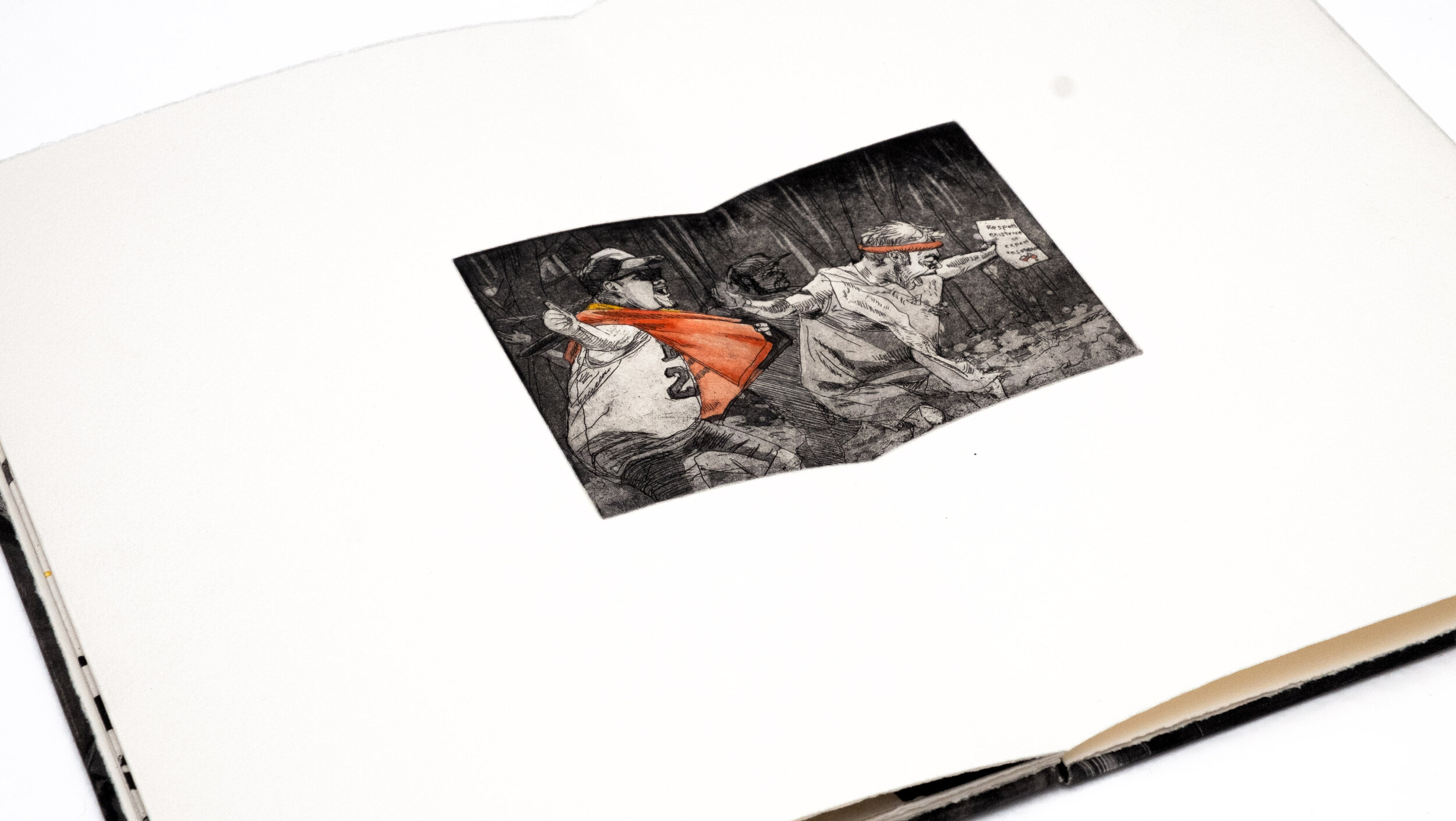 BLACK WALLABY, 2019

11 monoprints on 250gsm Hahnemule paper, concertina structure artist book, 53x33cm (closed)

Victoria's native forests are rapidly approaching collapse as logging threatens the last remaining areas of intact, undamaged forest. 'Black Wallaby' is a quiet reflection on resistance in the last of these forests. This work shares a view of the landscapes I have experienced through sleepless nights spent scouting, hiding out, and setting up blockades on the edges of logging coupes to prevent the spread of destruction.


This book takes the perspective of the 'black wallabies', the activists who work tirelessly against the tide of the inevitable, running through the undergrowth in the dead of night, tying machines together, and climbing into the canopy as dawn breaks, occupying the area for as long as possible and drawing attention to an antiquated practice that has slipped under the radar for too long.



MISSING MEMORIES, 2019

Book of 15 multilayered monoprints on 250gsm Hahnemule paper, concertina structure.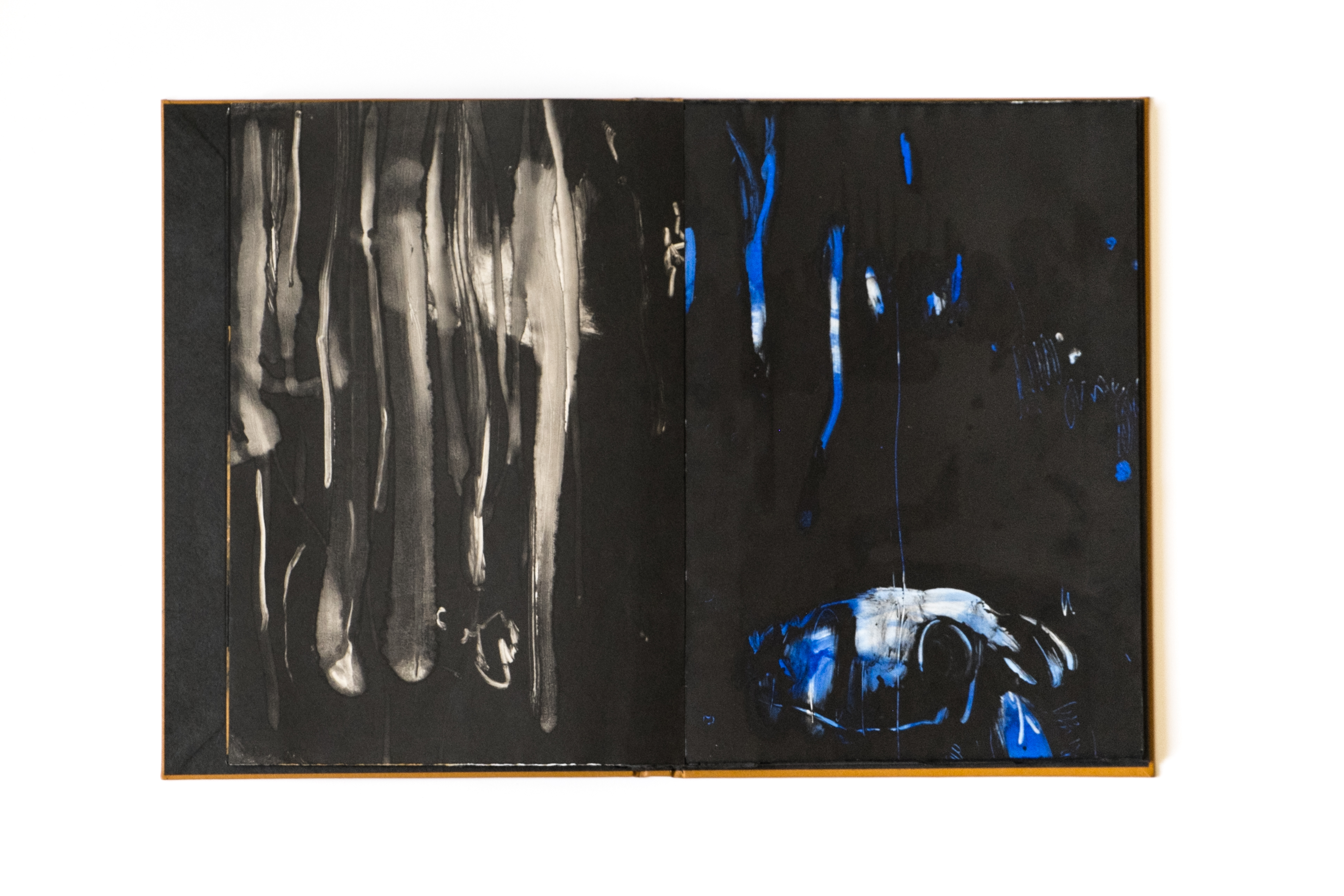 THE VIEW FROM HERE, 2018
Sugarlift, aquatint, etching, 3 page fold-out artist book. 32.5 x 24.5cm (closed), edition of 7.
NO GREAT BARRIER, 2018

Aquatint and etching, concertina structure artist book. 21x15cm (closed), edition of 6.

In January 2018, I travelled on a flat-bottomed barge with about 40 other people to a remote island on the southern end of the Great Barrier Reef. Nature was still in control here, and I was in awe. North West Island, at only one square kilometre, is home to 500,000 birds and is the nesting ground for 6 different species of turtle, one of which is endangered.

With no regulation, no briefing, and little information, the tourists thoughtlessly crushed coral as they walked over the reef they were exploring, and polluted the water with fishing boats. Tents got in the way of turtles coming up onto the beach to nest and torchlights scared them back into the water as people watched on with excitement. Turtle hatchlings ran into the forest confused by camp lights, and seagulls that had come to the island on fishing boats snatched the ones that headed for the ocean. The most ominous sign of our impact was the reef - bleached and badly damaged by ocean acidification and climate change. Seeing all of this I couldn't help but wonder what we were doing there.

'No Great Barrier' is a reflection on the unintended and often unavoidable impact of our presence through our sense of entitlement to all corners of the globe.
FLUX, 2017

Hand-bound book of monoprints, 2017

21x15cm (closed)

Collection of Bibliotheca Librorum apud Artificem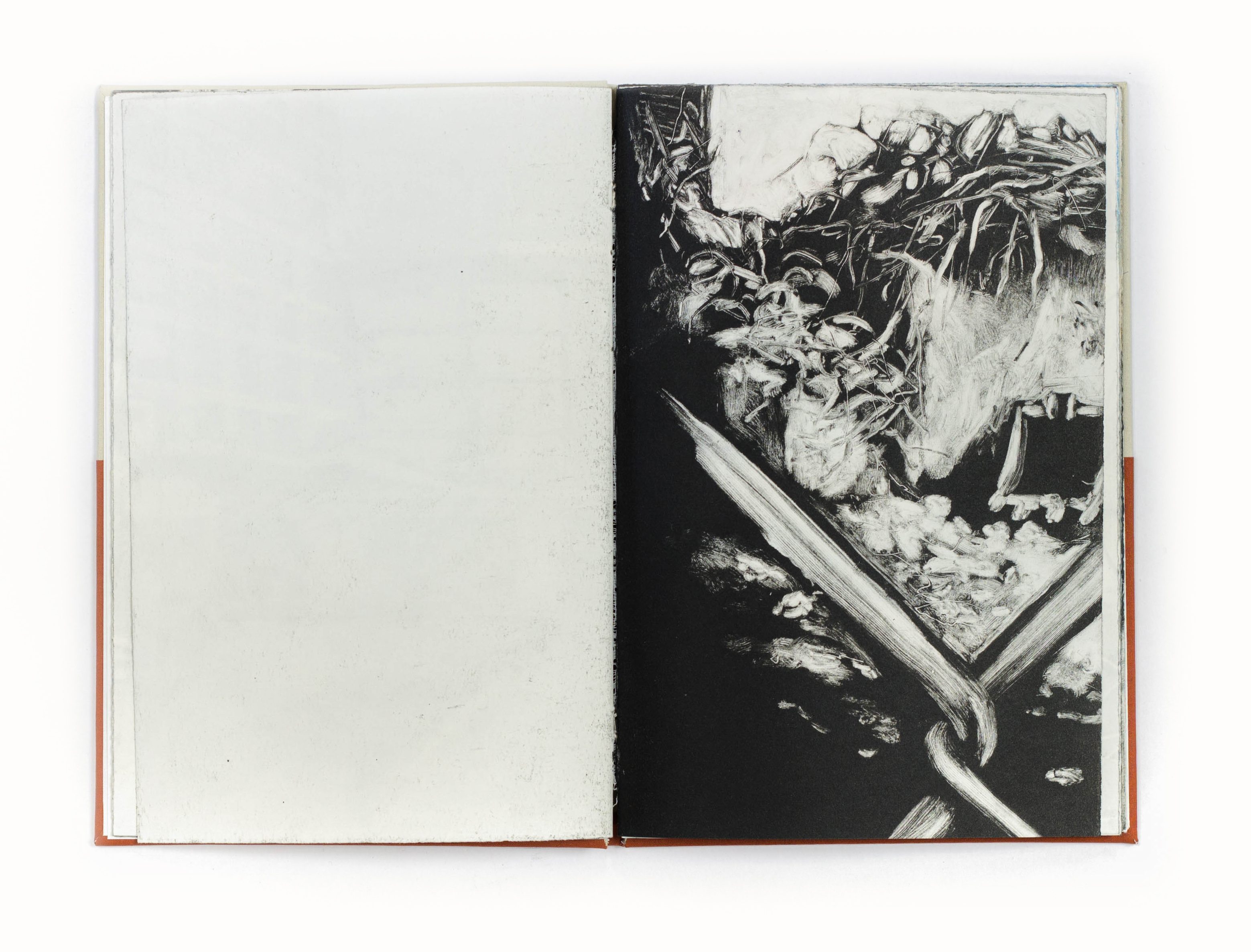 I'M NOT SURE WHERE WE'RE GOING BUT I KNOW WE'RE NOT THERE YET, 2018
Etching, aquatint, drypoint. Hand-bound book of 6 prints.

35 x 20cm

Edition of 3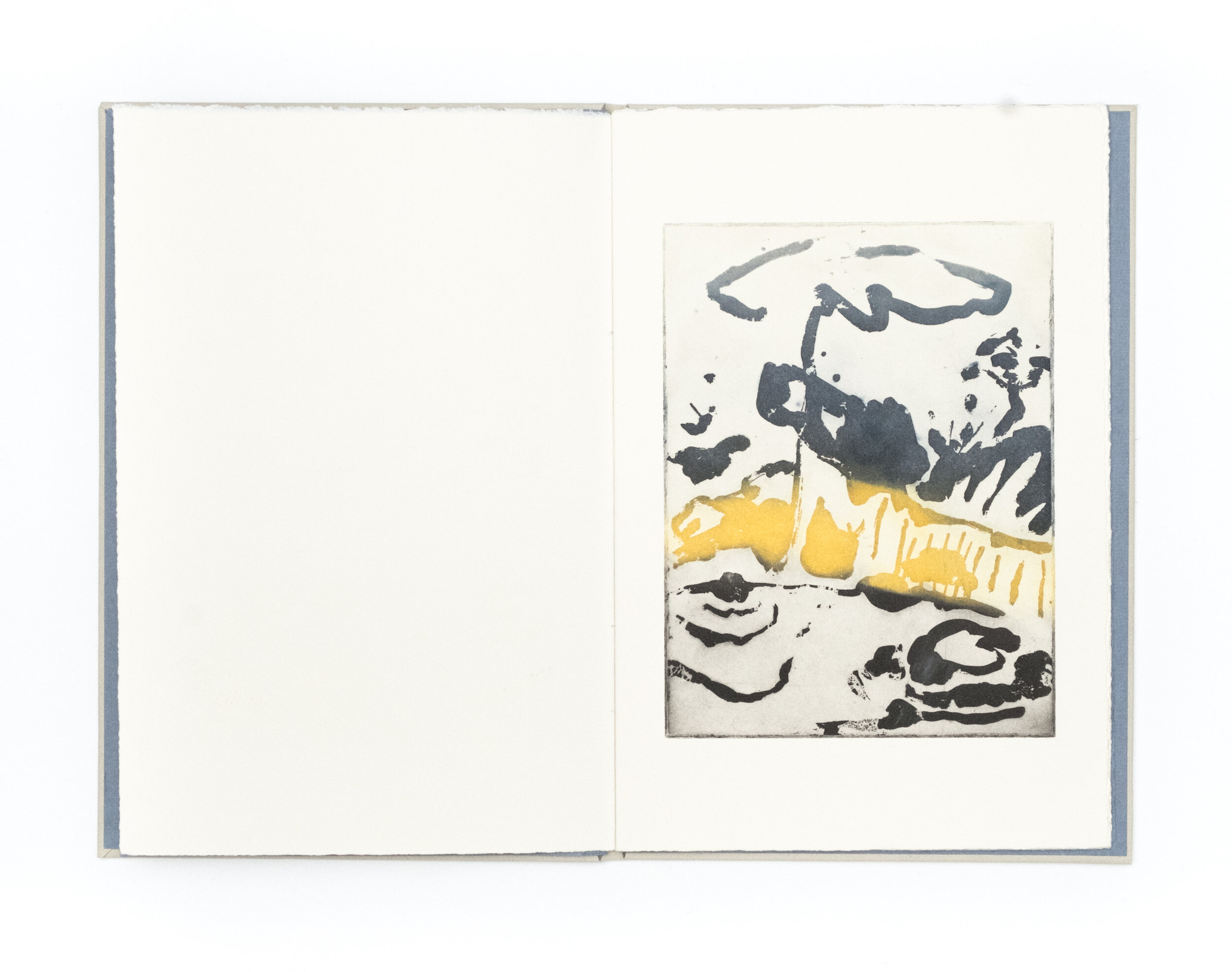 THE COST OF LIVING, 2016
Lithograph artist book, concertina structure.
Hand-printed on 300gsm Somerset Satin paper by Jaime Powell.
I FLEW TO SYDNEY TO SELL BOOKS ABOUT CLIMATE CHANGE, 2015

Monoprinted concertina structure artist book. Edition of 11.


AS IF THERE WERE NO TOMORROW, 2015
Concertina structure monoprint on zerkhall paper with monotype wrap cover. Unique state, edition of 26.

Victoria's old growth native forests, one of the largest carbon stores on the planet.

We strip the landscape bare, with unashamedly short-term views. The future still takes a backseat to business – a worrying miscalculation of value.

Global temperatures push closer toward 2 degrees. Bushfires become larger and more frequent, speeding up the process.

We have viewed this land as a resource – taking, wasting, and using it all up 'as if there were no tomorrow', and if we continue this way, that might just end up being the case.

ALL FOR YOU FOR NOTHING, 2020

Series of 2 unique state artist books each with 6 multilayered monoprints.

'All For You For Nothing' draws on feelings of helplessness, anxiety, effort and burnout experienced through the recent climate events of the 2019/20 summer months in Australia. This book was created after 6 months tirelessly programming and preparing the National Climate Emergency Summit, which was held in February 2020, while the forests burned and the cities filled with heavy smoke, the nation's capital was battered by freak hail, the rivers dried up and the red soil from the Mallee region blew across the land and blanketed Melbourne.

The title, 'All For You For Nothing', refers to the efforts of so many hardworking organisers, groups, activists and advocates who are dedicating so much of their time and energy to get emergency action on climate while the general population seems wilfully unconcerned or hands-off. These efforts are unrewarded and often selfless, coming from a place of love, anger, desperation and resolve. The alternate reading of the title points to our attitude towards the earth as though it were a bargain giveaway. It's all for us, for nothing.

While the prints in this book are all abstract, I made them thinking of the unstoppable momentum of time, the changing land, atmospheric shifts, weather and pollution. They are images created out of exhaustion and a letting go of control. They are products of chance and mistakes and layers of corrections and changes. They are images of nothing in particular, and the state of the whole world.
UNTITLED, 2011

Digital prints in hand-bound book.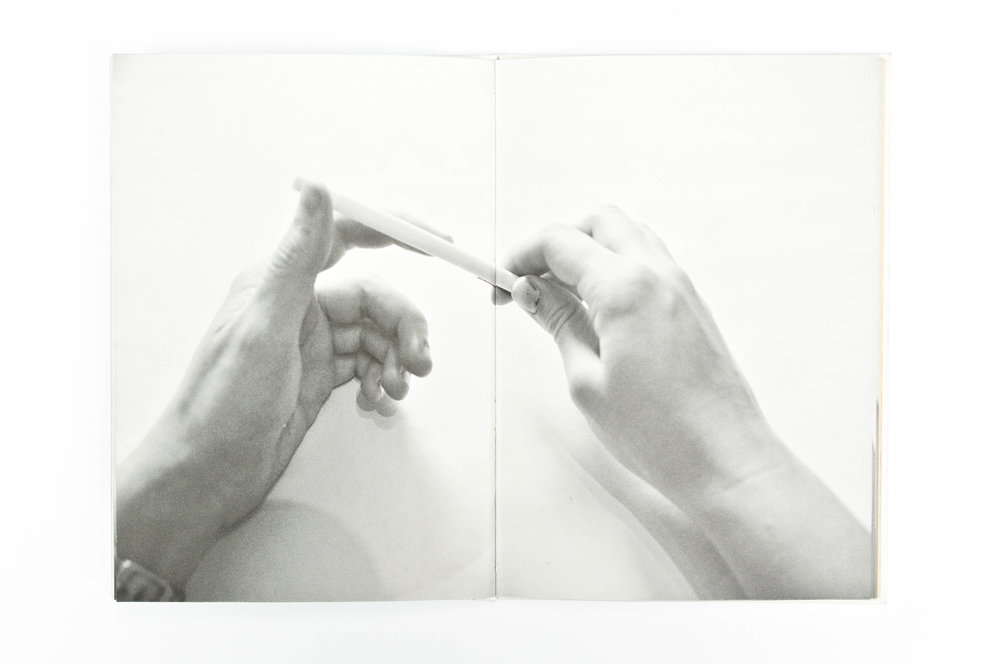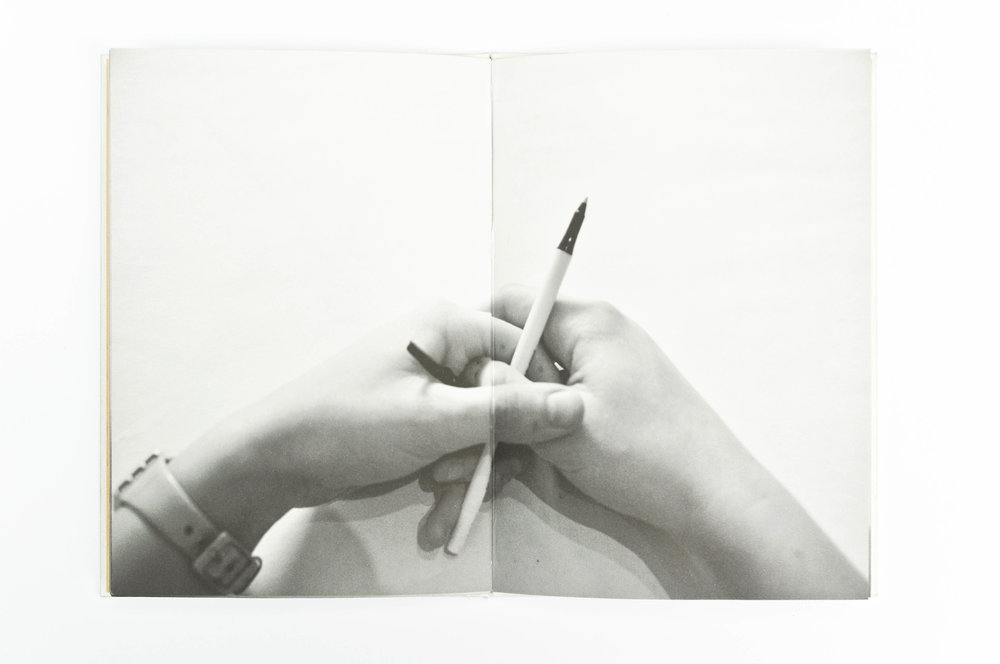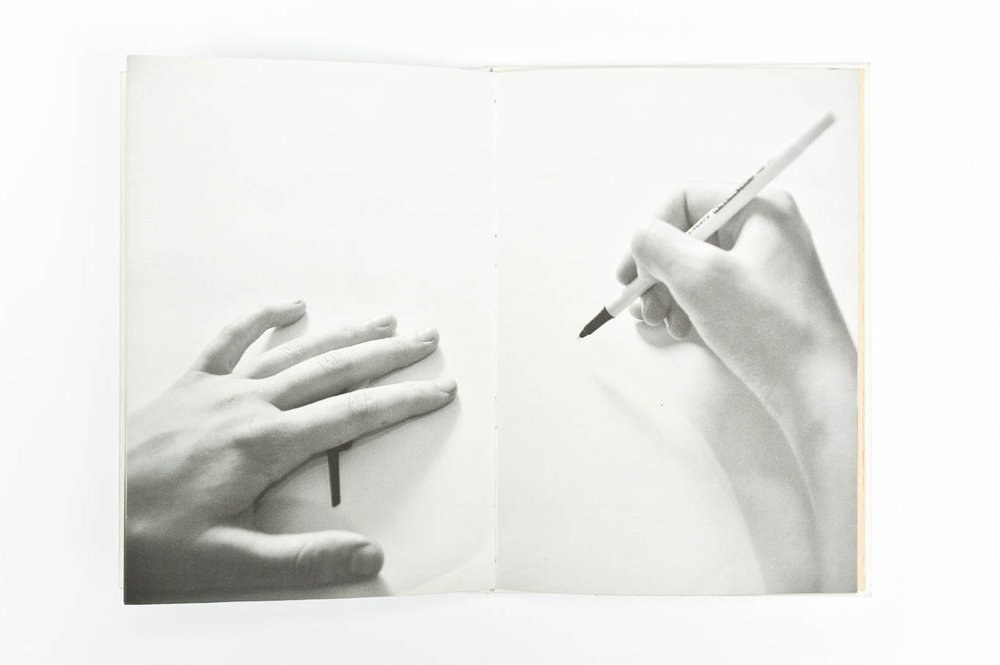 BOOK OF SMILES, 2011

50 smiles photographed over 30 minutes. Digital prints in hand-bound book.
BLOCKED, 2011

Book of torn notes taken by my hypnotherapist while helping me work through a persistent and paralysing creative block. End pages taken from an exercise on visualising the block.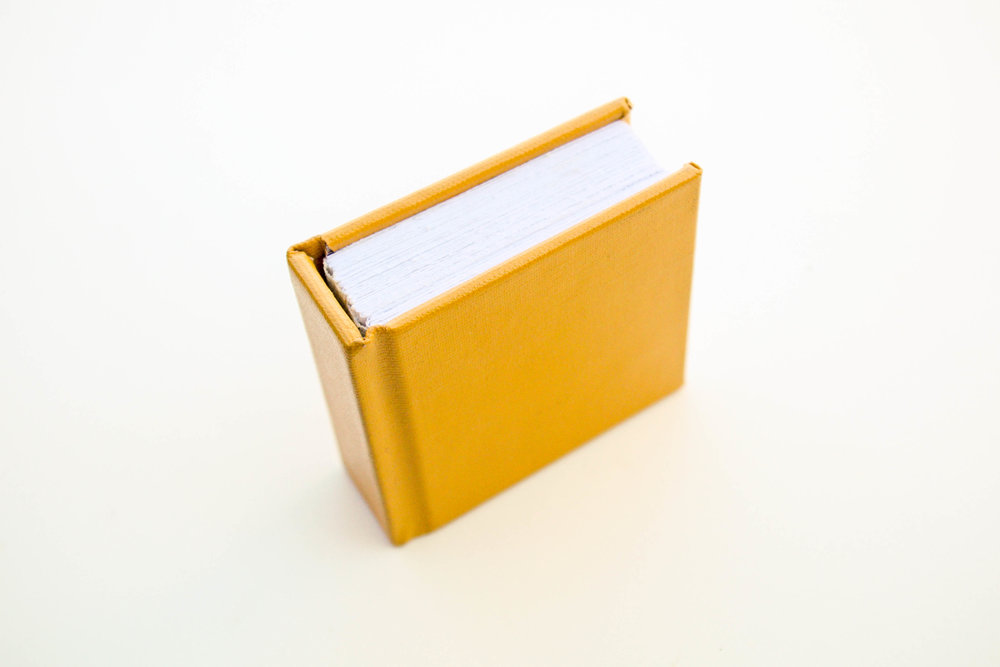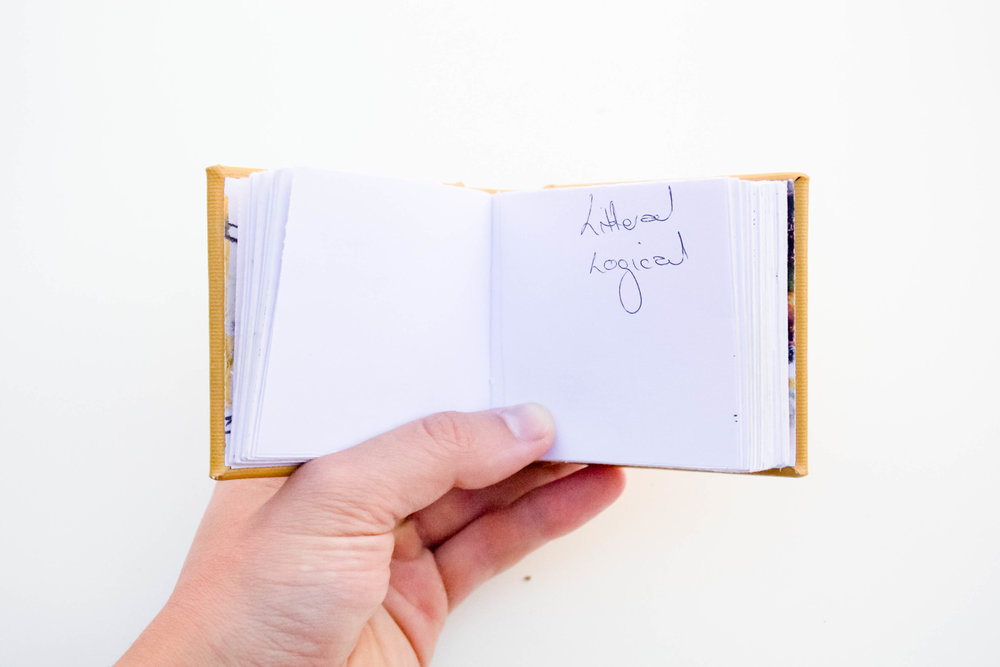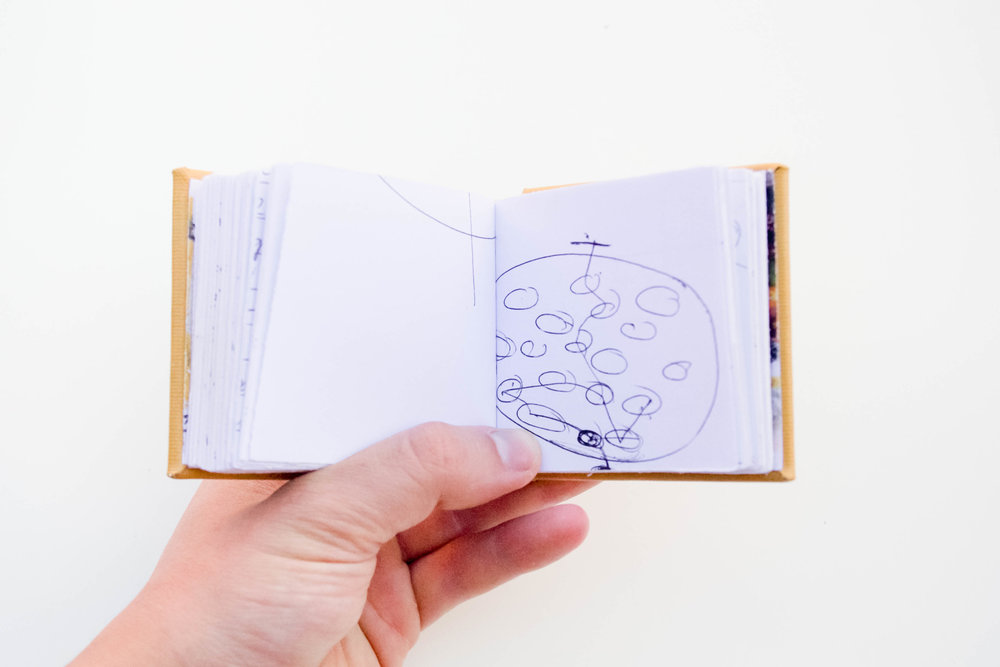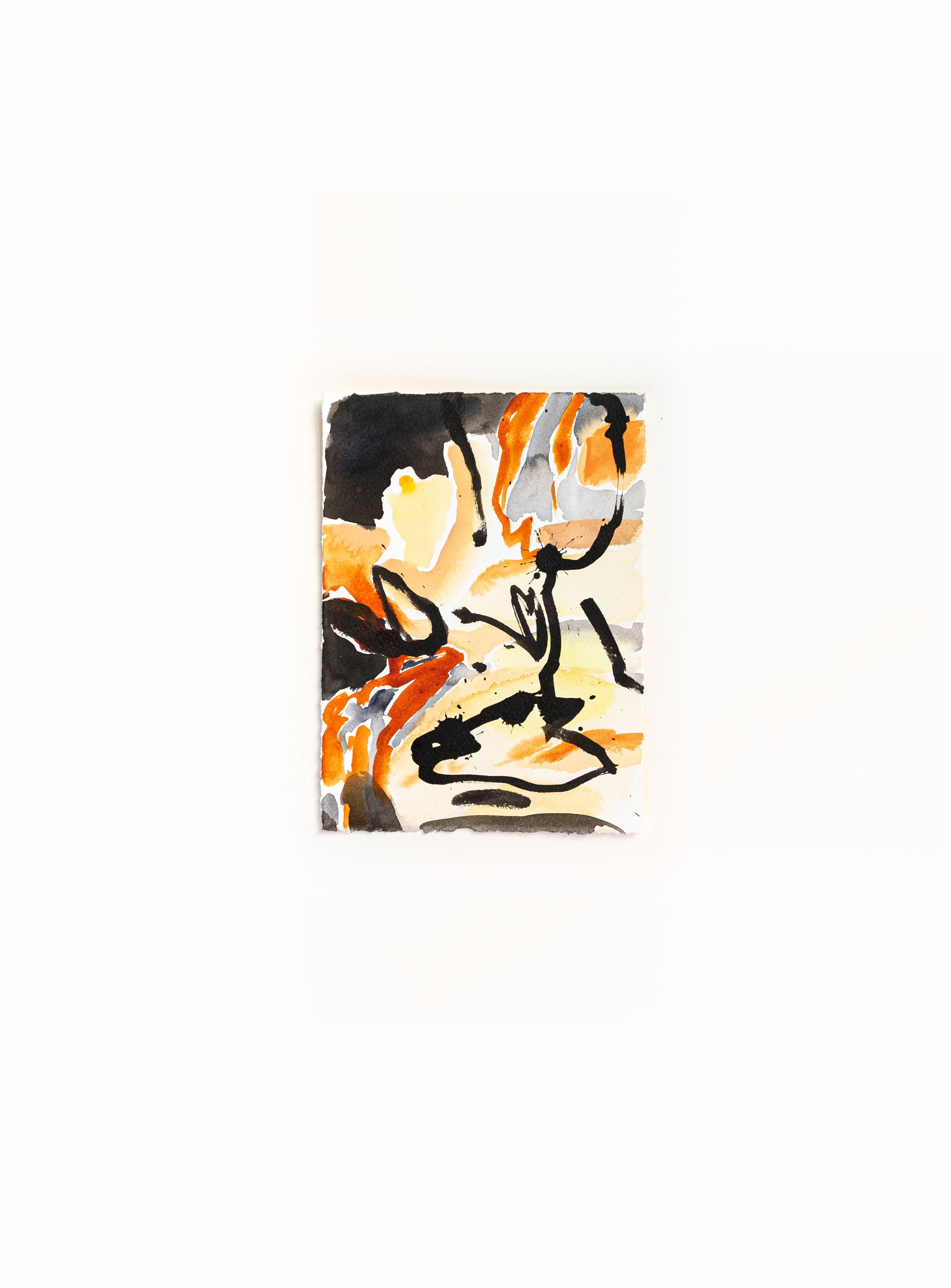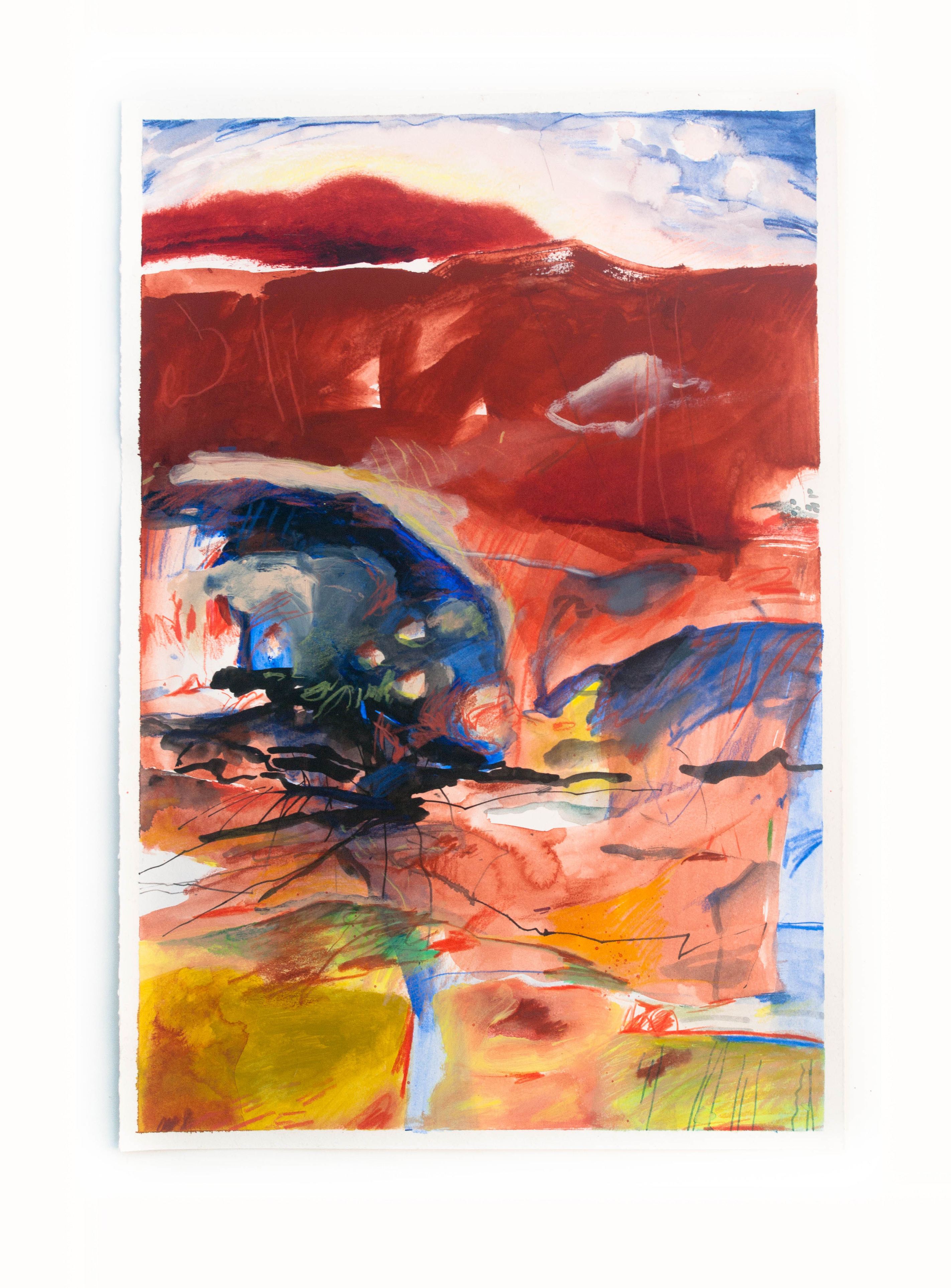 HERE TODAY: DEFENDING TAKAYNA/TARKINE, 2019
Shown at St Helier's gallery, Abbottsford, as part of Climarte's biennale festival, ART+CLIMATE=CHANGE2019.
Photo credit: Jasmine Fisher
The Tarkine, or takayna, in the north-west of Tasmania is one of the last remaining tracts of Gondwanan rainforest in the world. While these forests have been recognised for their incredible cultural, historical and ecological significance, they are still a site of ongoing tension.
Here Today
points to the continued efforts of everyday people to protect these forests from logging over the past 12 months. As we bare witness to the tide of our own destruction, these small acts of resistance reflect the recurring conflict in our relationship with nature and each other, and force us to face uncomfortable truths about our time and place on this earth.
Here Today
is a reminder of our mistakes and failures, a celebration of our successes, an apology, and a message of hope.
Here Today
, by Sarah McConnell presents new print works commissioned for ART+CLIMATE=CHANGE 2019. For more information on saving takayna/Tarkine, visit the Bob Brown Foundation
website.
The View From Here,
2018
Sugarlift, aquatint, etching, 3 page fold-out artist book
Edition of 7
Here Today,
2019
16 monoprints on 250gsm Hahnemule paper
Defending takayna/Tarkine, 2019

Audio interviews with 5 forest defenders, 2019
15:00
Sound design and editing by Stefan Niedermeyer and Sarah McConnell
FULL TRANSCRIPT HERE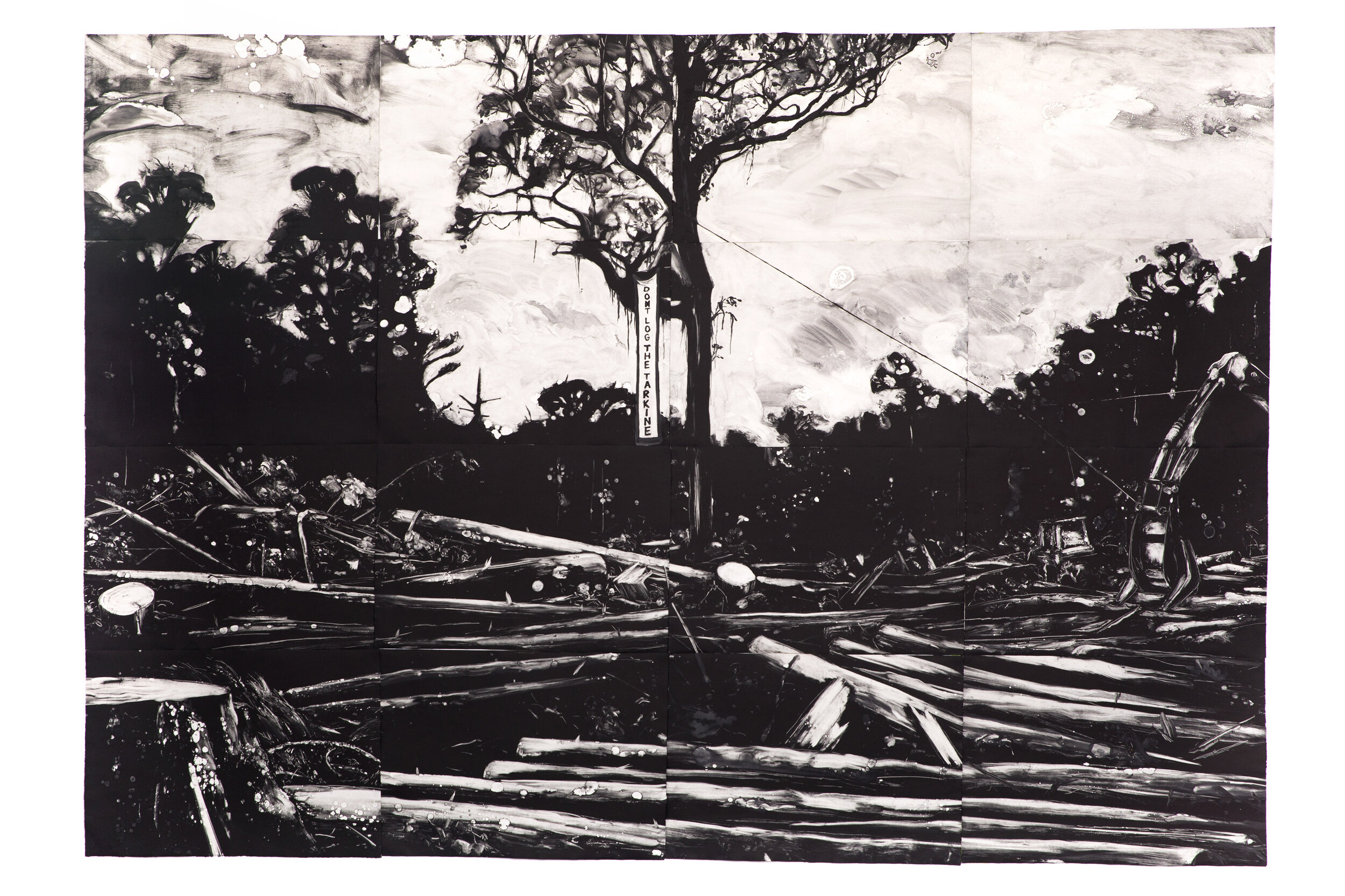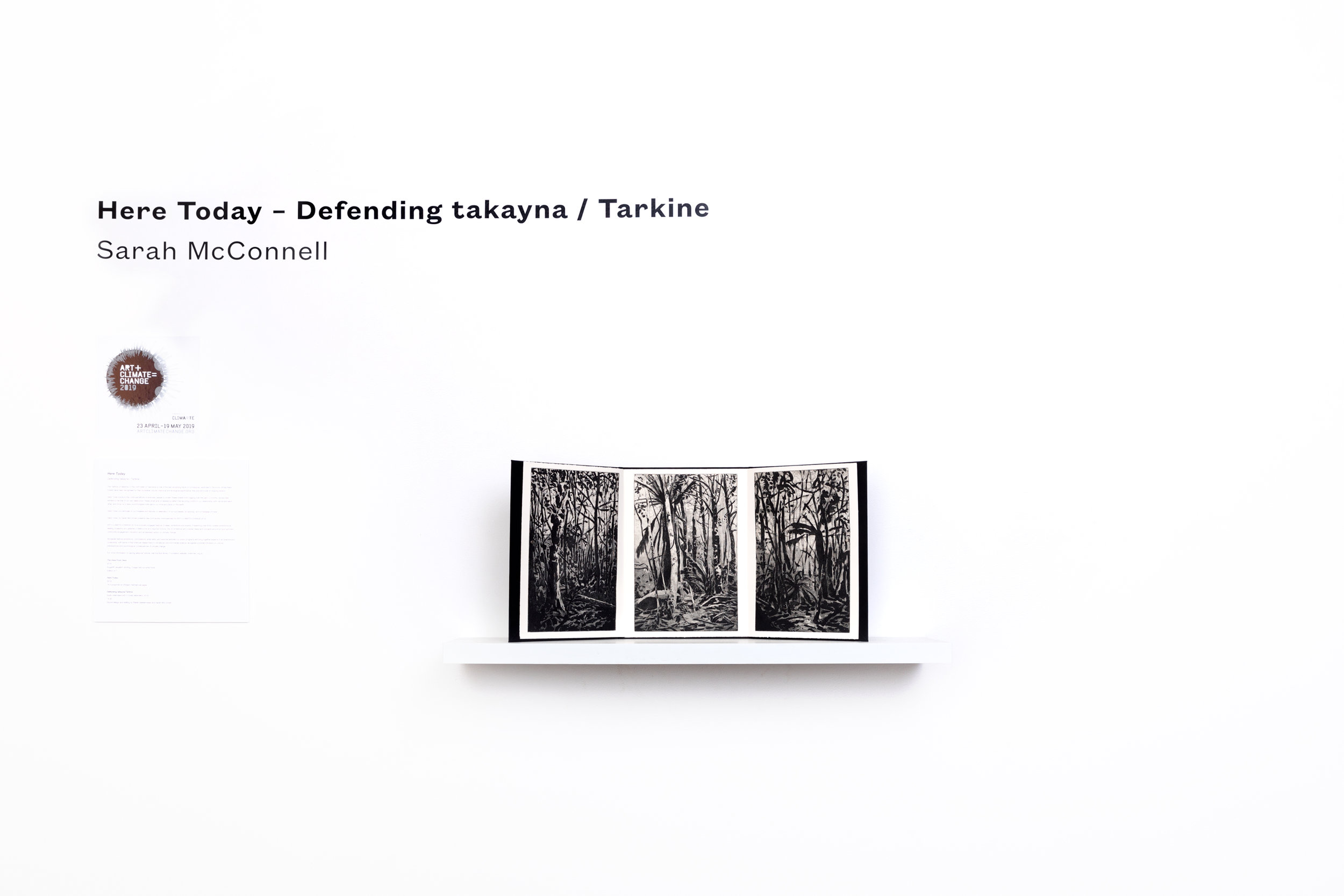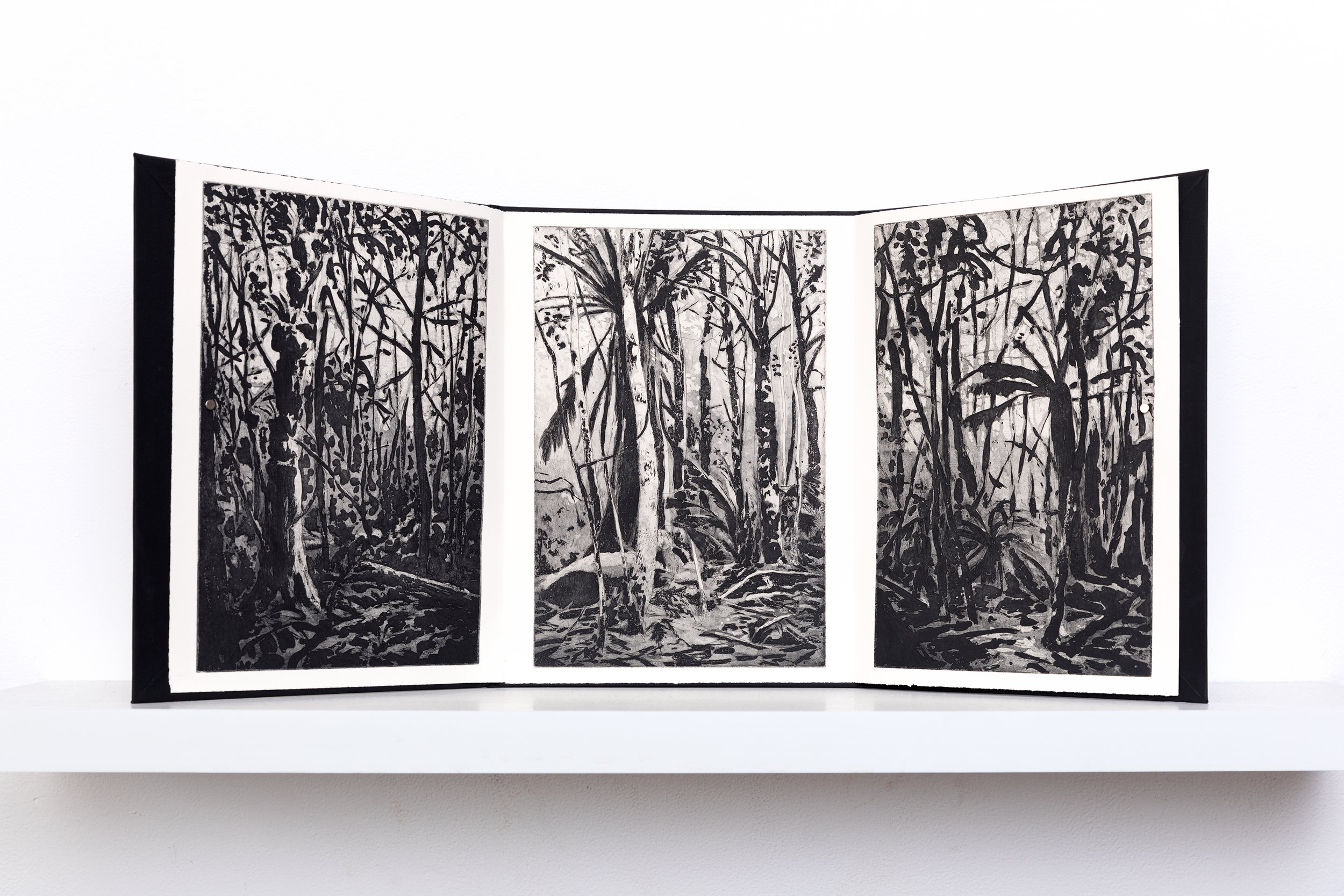 WHEN THE WIND CHANGES, 2017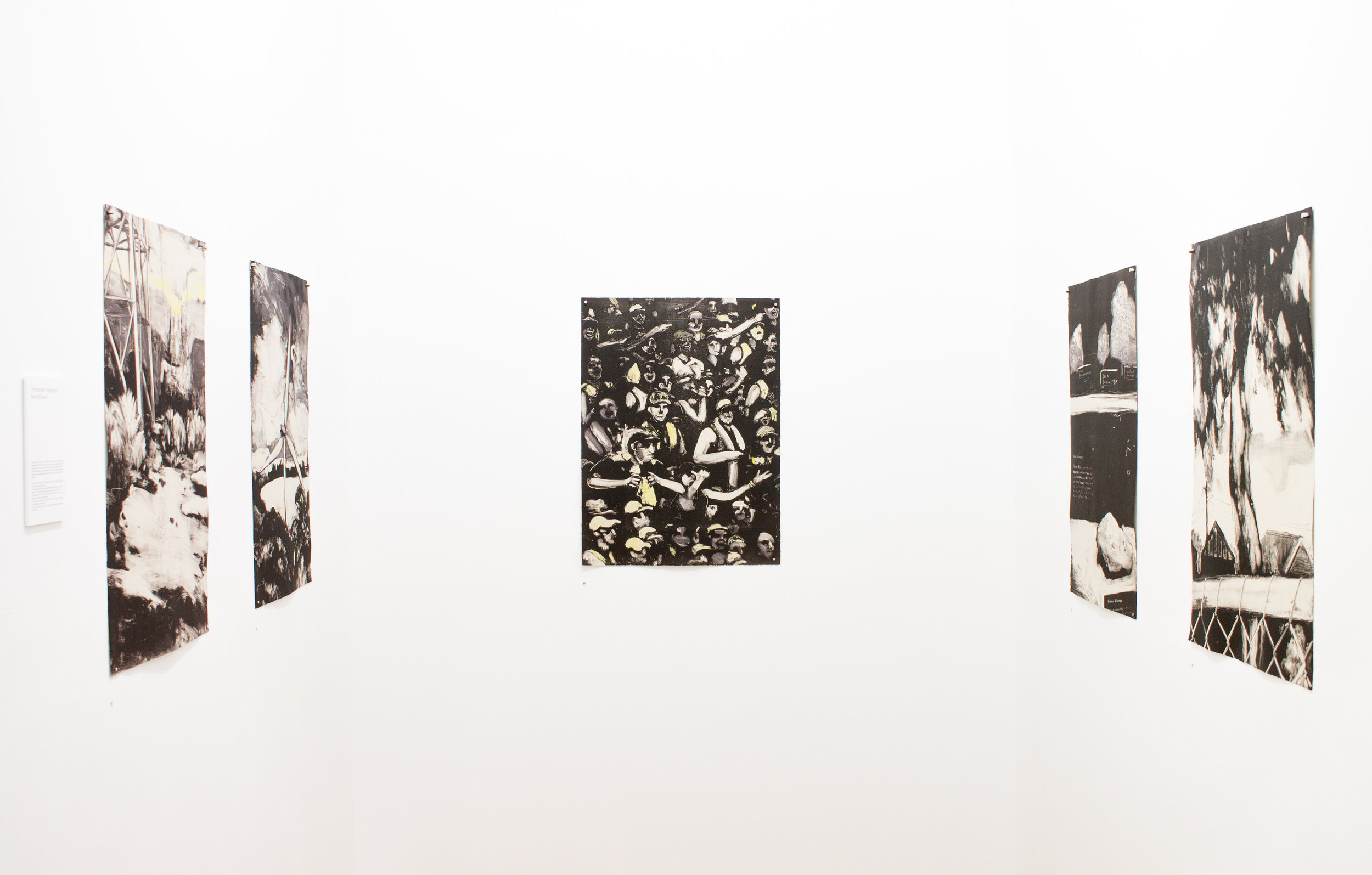 Monoprints on 250gsm Somerset paper, 56 x 76cm
$400 each
'When The Wind Changes'
is a reflection on our destructive relationship with the environment. Chosen from personal experiences, these images point to moments of humour and absurdity in the everyday as a reflection on our collective obliviousness to the severity of the path we find ourselves on and highlights our disproportionate response to the scale of the issues we've created.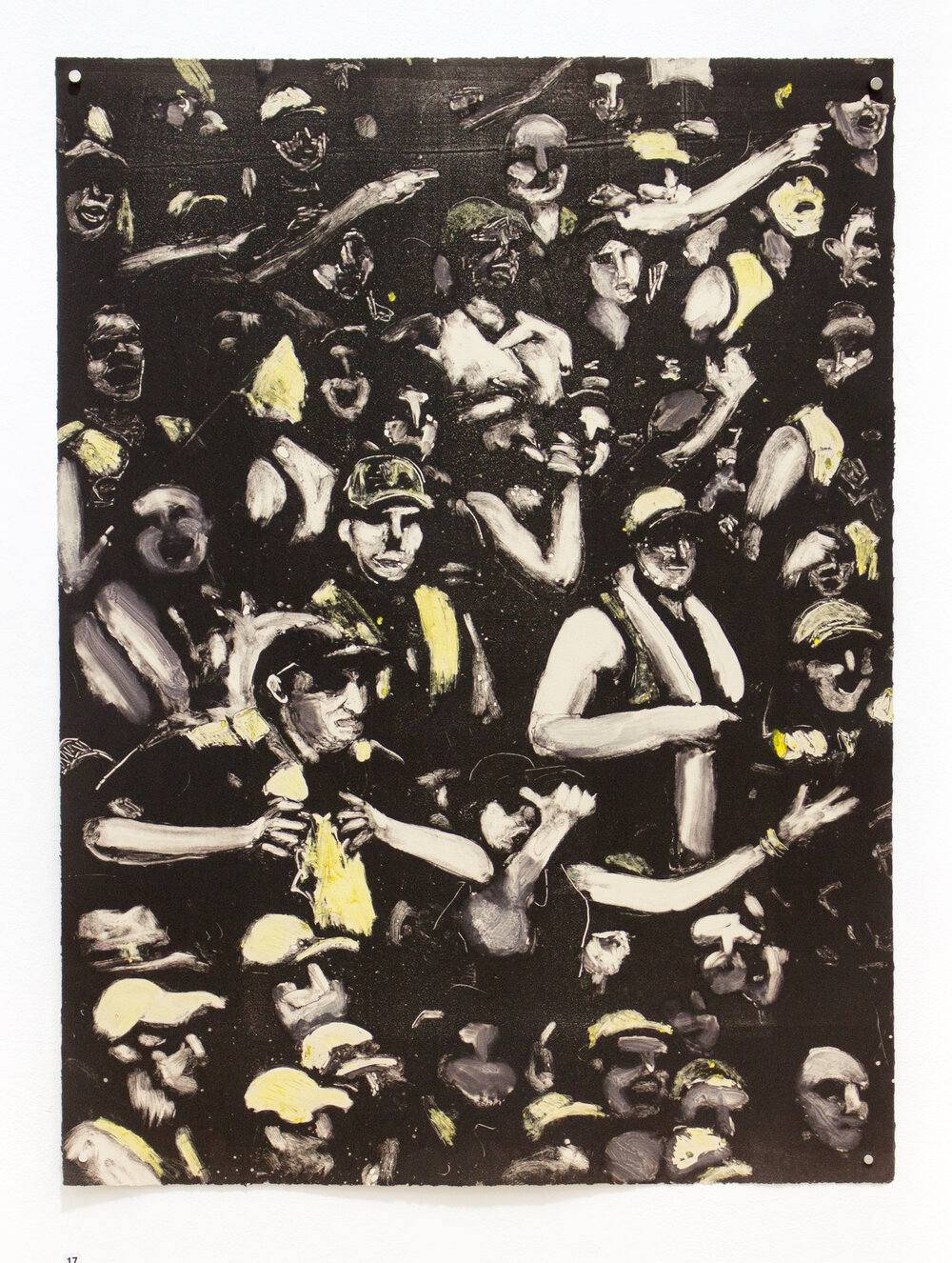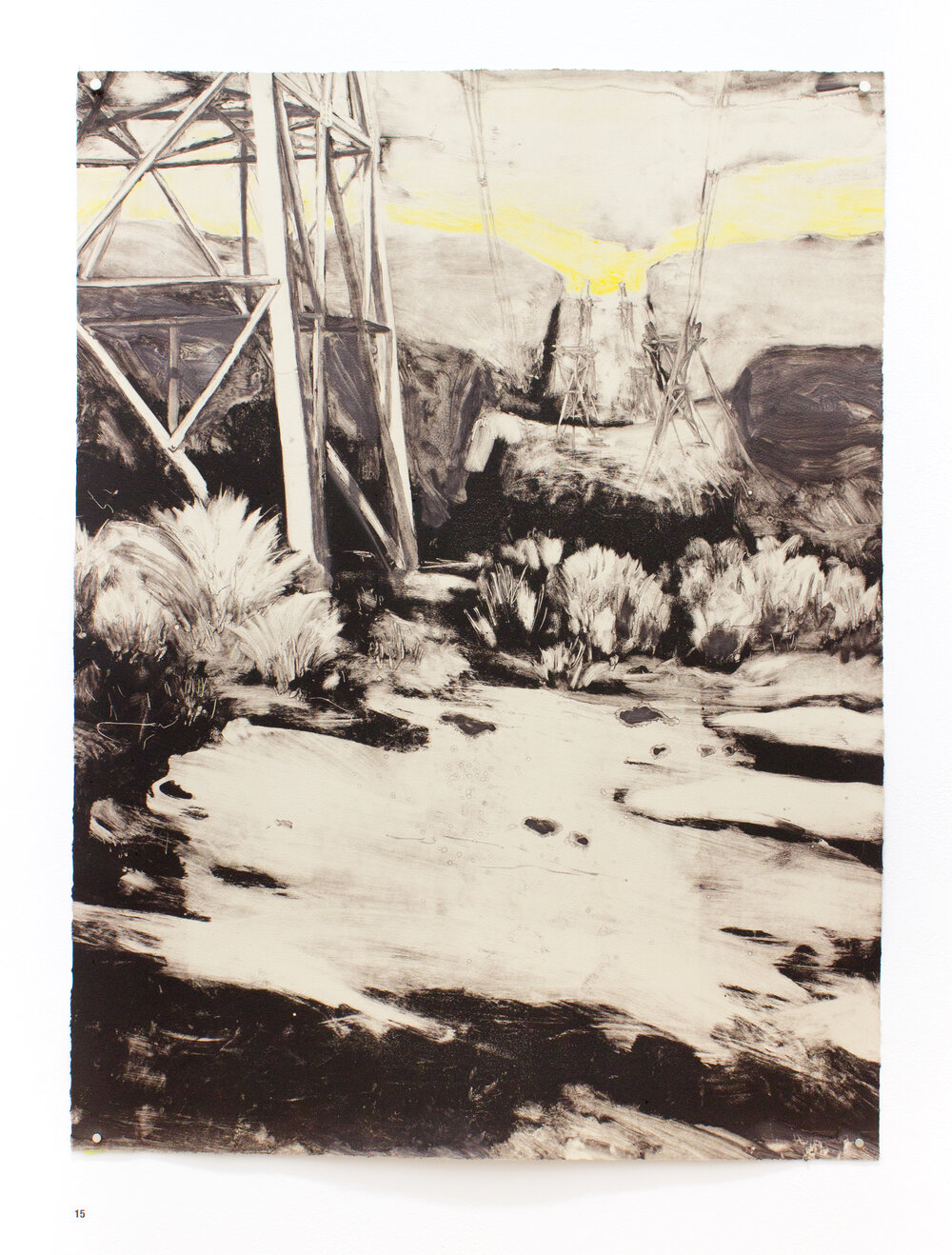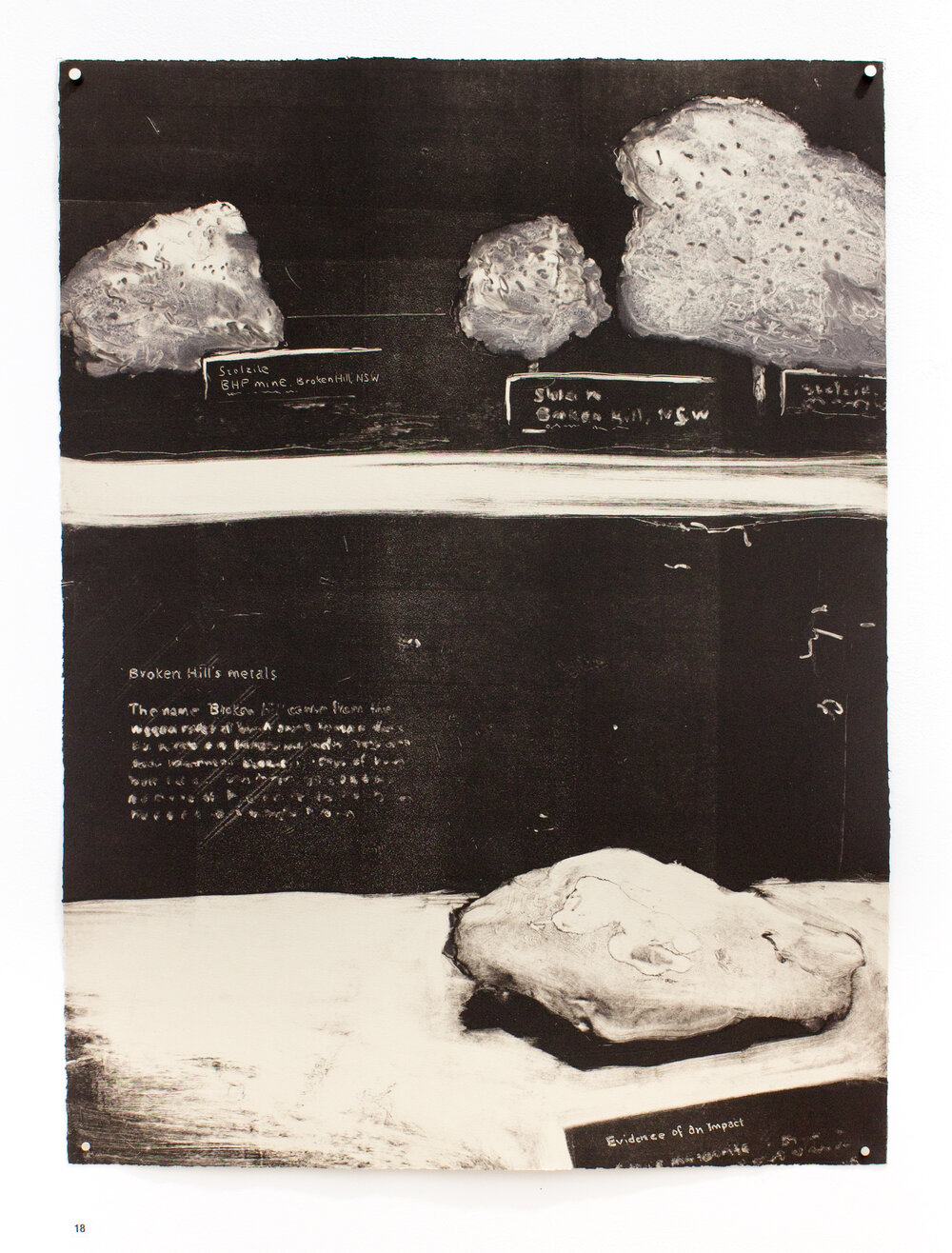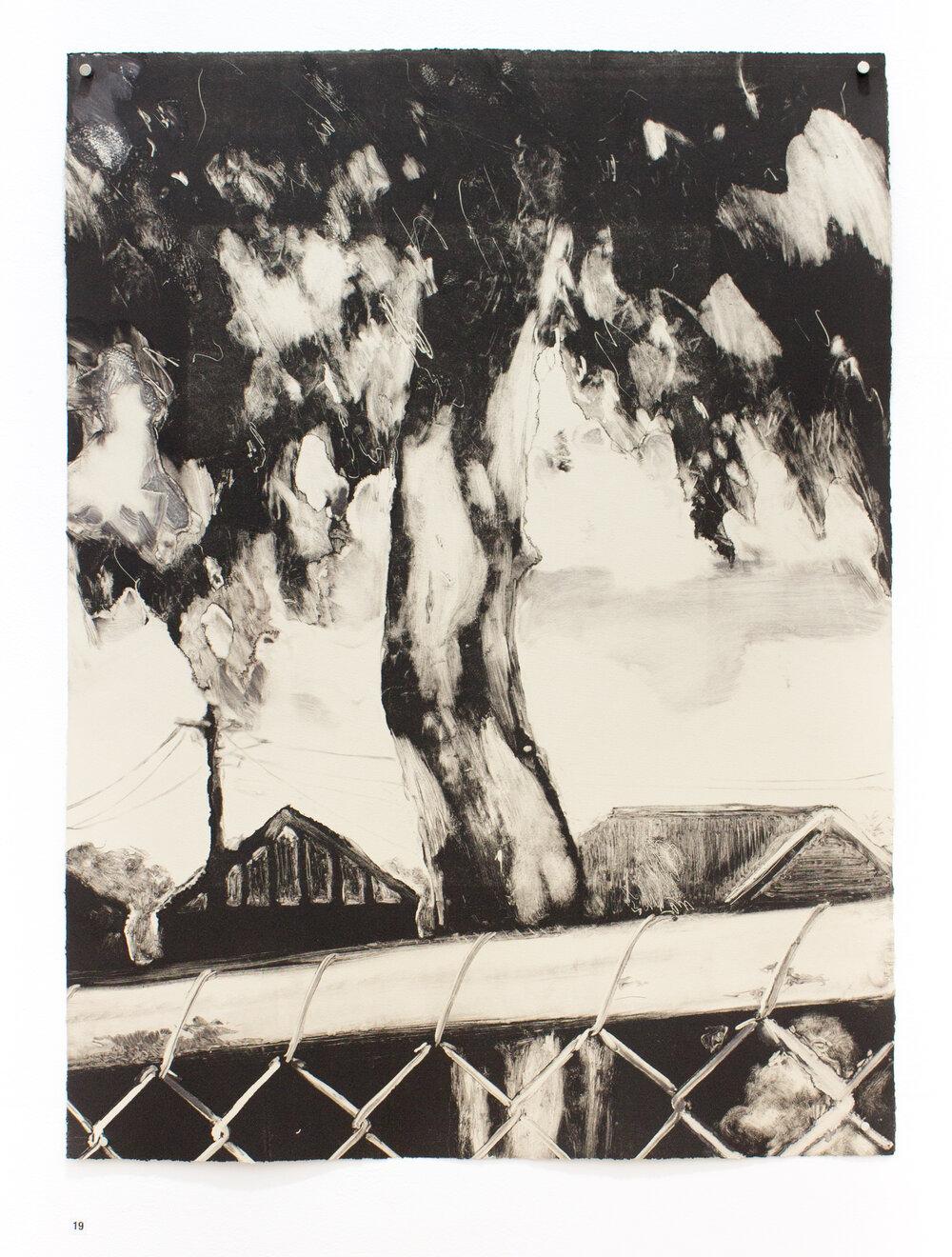 In order from right to left:


Train delays on the way to Ecocity


The Ecocity World Summit, a conference that brought together people from around the world to discuss the future of sustainable cities in dealing with climate change, was held in Melbourne in July 2017. I opted to catch public transport to the conference, but a 25 minute train delay on day one meant I arrived late. On day two of the conference, Al Gore received a standing ovation for proclaiming that green technology would save the day.
Evidence of an impact, sponsored by Rio Tinto
On a recent visit to the Melbourne Museum, I was bemused by the tactical framing of the rocks and minerals in the museum's permanent collection, 'Dynamic Earth', where many of the specimens had been donated by large corporate mining efforts from around the world. One piece, a meteorite, had a caption that seemed suitably titled 'Evidence of an Impact'. There was no discussion about the impacts of mining on environment, climate change, or indigenous land rights. This exhibition is 'proudly supported by Rio Tinto'.
Heating up at the G: the 2015 Toyota AFL Grand Final
The 2015 AFL Grand Final was the hottest on record, peaking at 31.3 degrees celsius and exceeding the predicted temperature by over 3 degrees. Looking back at reports, there seemed to be no connections made to climate change, despite an acknowledgement that the average temperature for October is 19.7 degrees and the string of days around 30 degrees was "pretty unusual" and "could affect the scores". Instead, the news reported that "the location of the high-pressure systems was the cause of the sudden heatwave".
Climate change disaster is biggest threat to global economy in 2016, say experts
Having visited Portland Victoria recently, the wind farms around the area seemed to signal a visible shift toward more environmentally conscious practices. I found out that Portland began manufacturing wind turbine blades in 2005, but In August 2007, the company announced it would close its near new plant with the loss of 130 jobs. The port's main exports include livestock, forestry and mining products, while importing aluminium, liquid pitch and fertiliser. The title of this piece was taken from a news report of the same name.
Wrong turn on the road to Mt Disappointment
On the way to go camping at Mt Disappointment in Victoria, my partner and I got lost and found ourselves at the top of another mountain overlooking a corridor that had been cut through the state forest to make way for high voltage powerlines. Stepping out of the car, the landscape was eerily silent, except for the unsettlingly loud sounds of electricity coursing through the cables.
B R E A K I N G, 2017

Series of 57 monoprints based on articles released in the Guardian newspaper about extreme weather events in the first 4 months of 2017. Printed on Japon paper. Presented as part of 'T I P' with Sian Darling.
24 x 32cm
$85 each
Full list of works
here
.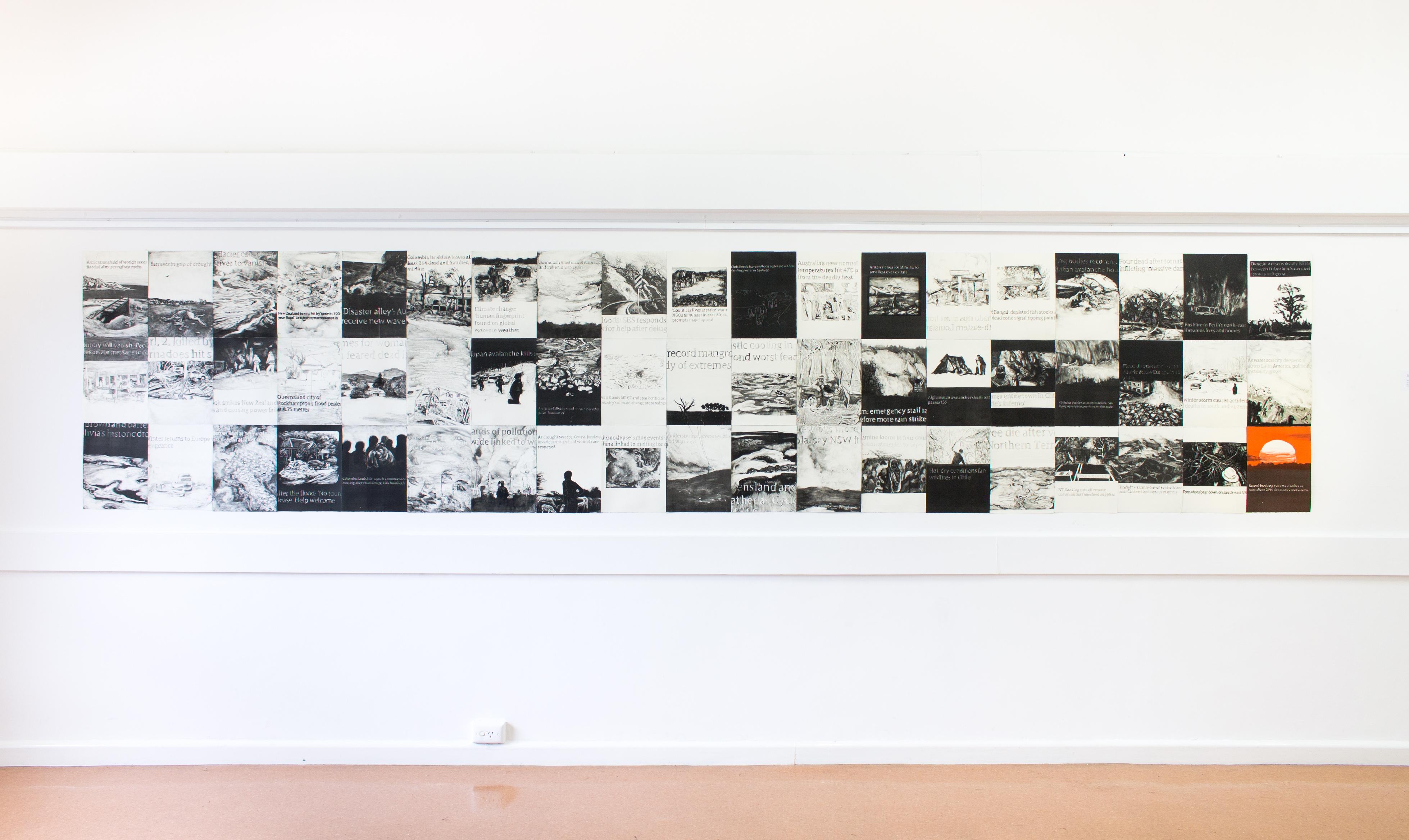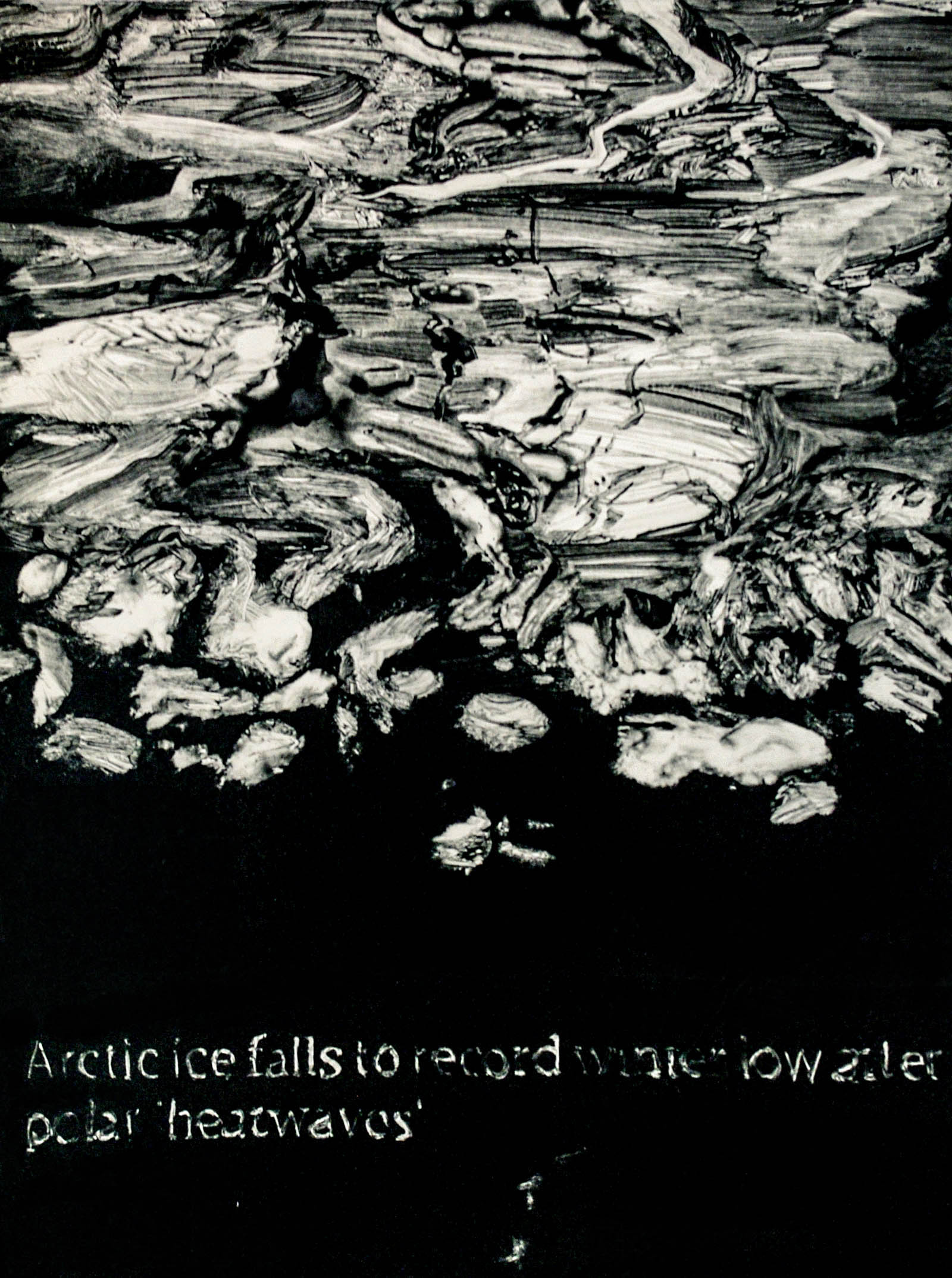 OUT OF SIGHT, 2013
Collaborative exhibition with August Carpenter.
Installation view at the Henley Club, Melbourne.
Sarah McConnell is an artist, cartoonist and environmental activist living and working on Wurundjeri country. She has been published in
Meanjin
and
Going Down Swinging
and works as Program Coordinator at the Sustainable Living Foundation.
Sarah completed a Bachelor of Fine Arts, majoring in Drawing at the Victorian College of the Arts & Music in 2011, and the Sustainability Leadership Fellowship program at the Centre for Sustainability Leadership in 2014. She has previously taught drawing at LaTrobe College of Art and Design and currently sits on the board of
CLIMARTE
, organisers of the biennial festival ART+CLIMATE=CHANGE.
As a member of
5 Press
, a group of five artists brought together by an appreciation for handmade books and printmaking, she has participated in several book fairs in Australia and internationally, and is collected by the National Library and State Library of Victoria.
Born 1990, Melbourne, Australia.


EDUCATION

2014
Centre for Sustainability Leadership Fellowship
2011 BFA Drawing, Victorian College of the Arts and Music, Melbourne
2008 Certificate of Fine Art, LaTrobe College of Art and Design
SOLO EXHIBITIONS
APRIL 2019 '
Here Today: Defending takayna/Tarkine'
, St Heliers Gallery, Abbottsford Convent, Collingwood (as part of CLIMARTE's Biennale, ART+CLIMATE=CHANGE 2019)

SELECTED GROUP EXHIBITIONS AND EVENTS
2022
FOREST: The Last Stand
, CLIMARTE Gallery, Richmond
Room To Reverse
, Maroondah Federation Estate Gallery, Ringwood
2020
Tarkine In Motion,
Long Gallery, Hobart
2019
Fremantle Arts Centre Print Award
, (finalist) Fremantle Arts Centre, Fremantle
Tarkine In Motion,
Long Gallery, Hobart
2018
Impressions
, Australian Print Workshop, Fitzroy
Landscapes Revisited
, Brunswick Street Gallery, Fitzroy
Peer
, Australian Print Workshop, Fitzroy
2017
Fremantle Arts Centre Print Award
, (finalist) Fremantle Arts Centre, Fremantle
Contemporary Impressions
, Brunswick Street Gallery, Fitzroy
2015
Bookmarked
,
Stills Gallery, Sydney
2014
Artist's Books (reprised)
, George Paton Gallery, Melbourne
2013
Love Forests,
Gallery One Three, Melbourne
2012
Selected VCA Graduates
, Boom Gallery, Geelong
2011
VCA Graduate Exhibition
, Victorian College of the Arts and Music, Melbourne
PROUD
, Margaret Lawrence Gallery, Melbourne
Success
, VCA Student Gallery, Melbourne
2010
PROUD
, Margaret Lawrence Gallery, Melbourne
Hands On Hands Off,
VCA Student Gallery, Melbourne
2009
PROUD
, Margaret Lawrence Gallery, Melbourne
2008
Linden Postcard Show
, Linden Gallery, Melbourne
2007
All That Would Be,
LaTrobe Street Gallery, Melbourne
5 PRESS

2022
Melbourne Art Book Fair 2022
, National Gallery of Victoria, Melbourne
Sydney Paper Contemporary
, Carriageworks, Sydney
2020
Melbourne Art Book Fair 2020
, National Gallery of Victoria, Melbourne
2019
Sydney Paper Contemporary
, Carriageworks, Sydney
Singapore Art Book Fair
, NTU Centre for Contemporary Art, Singapore
Melbourne Art Book Fair
, National Gallery of Victoria, Melbourne
2018
Melbourne Art Book Fair
, National Gallery of Victoria, Melbourne
Sydney Paper Contemporary
, Carriageworks, Sydney
HOB/ART Book Fair
, Salamanca Arts Centre
,
Hobart
2017
Volume Art Book Fair
, Artspace, Woolloomooloo, Sydney
ABBE
, Queensland College of Art, Brisbane
Museum of Contemporary Art Zine Fair
, Sydney
Melbourne Art Book Fair
, National Gallery of Victoria
Buku Mini #2
, Jogjakarta, Indonesia
2016 P
rint Space
as part of Abbotsford Convent Open Spaces, Abbotsford
Melbourne Art Book Fair
, National Gallery of Victoria, Melbourne
2015 V
olume Art Book Fair
, Artspace, Woolloomooloo, Sydney


SELECTED COLLABORATIVE EXHIBITIONS

2017
TIP
, (with Sian Darling), Connections Art Space, Dandenong
2013
Out of Sight
, (with August Carpenter), the Henley Club, Melbourne
2012
Parallel Drift
, (with Sarah Galdes), Seventh Gallery, Melbourne
2011
Drawing Translations
, (with Sarah Galdes),Donkey Wheel House, Melbourne

PUBLICATIONS AND ARTICLES

2019 '
Disruption
' comic published by
Going Down Swinging
Cartoons published in Meanjin (Autumn and Winter editions)
2016 Brollo, Diedre:
'
Fumbling Hands and Phantom Limbs: The Photograph, the Hand, and the Artist's Book,'
Journal Of Artists' Books: 39, pages 40-43
2012 '
Ideas in an Age of Uncertainty'
, Criterion, Issue 3 (author)

ILLUSTRATION AND VISUAL SCRIBING EVENTS

2018
'Walk This Way'
poster illustration, Friends of the Earth Melbourne
2017
'Walk This Way'
poster illustration, Friends of the Earth Melbourne
'From The Consumer City To The Ecocity',
The Rescope Project, Ecocity World Summit
'Renewable Energy and Beyond'
, The Rescope Project, Sustainable Living Festival
'Redefining Progress'
, The Rescope Project, Sustainable Living Festival
'Satyajit Das 'Beyond Growth As We Know It'
, The Rescope Project, State Library of Victoria
2016
'Economic Growth To Save The Planet
', The Understandascope, Sustainable Living Festival
'Preventing Crimes Against Nature'
, The Understandascope, Sustainable Living Festival
2015 Project illustrations for
Growing Ideas Awards
, Hume City Council
'In Conversation With Charles Eisenstein'
, The Understandascope, State Library of Victoria

COLLECTIONS

National Library of Australia
State Library of Victoria
Charles Sturt University Art Collection, Wagga Wagga
Lenton Parr Music, Visual and Performing Arts Library, The University of Melbourne
LaTrobe College of Art and Design
Bibliotheca Librorum apud Artificem
CLIMARTE
Firbank Grammar School
SELECTED AWARDS
2011 Steve Cox Drawing award, Victorian College of the Arts and Music
PROUD
Drawing Award, Victorian College of the Arts and Music
HATCHED
, shortlisted, PICA
EMPLOYMENT
2020 - current CLIMARTE Board Member
2021 Program Coordinator, National Climate Emergency Summit (RESET.21 Series), Melbourne
2020 Program Coordinator, National Climate Emergency Summit, Melbourne
2019 Program Coordinator, Sustainable Living Festival Big Weekend, Melbourne
2016 Teacher, Advanced Drawing and Ideas,
LaTrobe College of Art and Design
, Melbourne
Teacher, Drawing, New York Art Tour with LaTrobe College of Art and Design, New York
2015-16 Intern and volunteer coordinator at CLIMARTE, Melbourne