Sarah McConnell is an artist, cartoonist and environmental activist living and working on Wurundjeri country. She has been published in Meanjin and Going Down Swinging and works as Program Coordinator at the Sustainable Living Foundation.
Sarah completed a Bachelor of Fine Arts, majoring in Drawing at the Victorian College of Art in 2011, and the Sustainability Leadership Fellowship program at the Centre for Sustainability Leadership in 2014. She has previously taught drawing at LaTrobe College of Art and Design and currently sits on the board of
CLIMARTE
, organisers of the biennial festival ART+CLIMATE=CHANGE.
As a member of
5 Press
, a group of five artists brought together by an appreciation for handmade books and printmaking, she has participated in several book fairs in Australia and internationally, and is collected by the National Library and State Library of Victoria.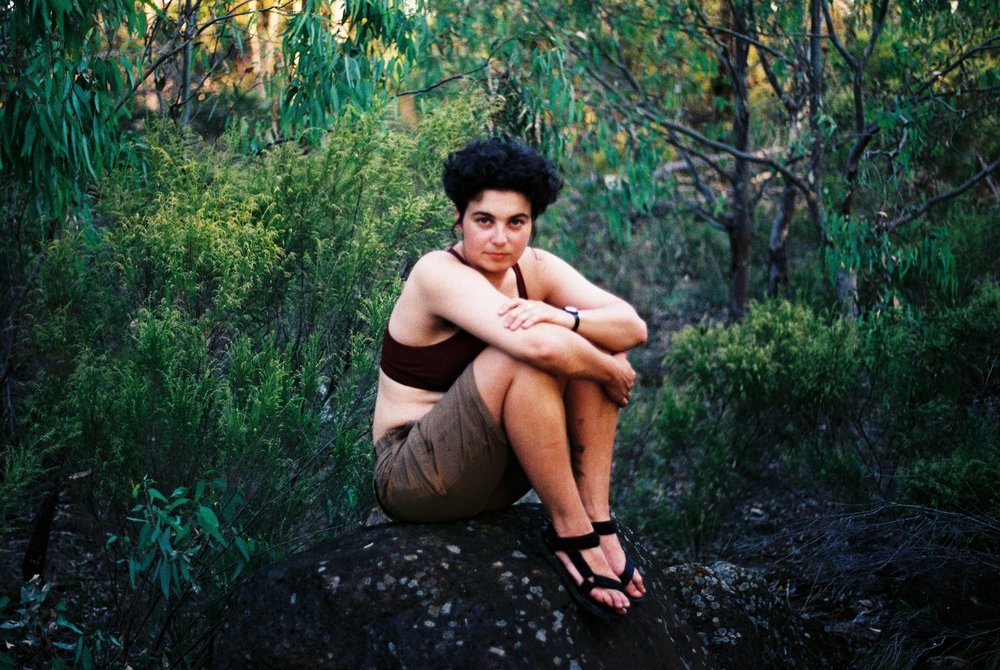 Born 1990, Melbourne, Australia.


EDUCATION

2014
Centre for Sustainability Leadership Fellowship
2011 BFA Drawing, Victorian College of the Arts and Music, Melbourne
2008 Certificate of Fine Art, LaTrobe College of Art and Design
SOLO EXHIBITIONS
APRIL 2019 '
Here Today: Defending takayna/Tarkine'
, St Heliers Gallery, Abbottsford Convent, Collingwood (as part of CLIMARTE's Biennale, ART+CLIMATE=CHANGE 2019)

SELECTED GROUP EXHIBITIONS AND EVENTS


5 PRESS

2020
Melbourne Art Book Fair 2020
, National Gallery of Victoria, Melbourne
2019
Sydney Paper Contemporary
, Carriageworks, Sydney
Singapore Art Book Fair
, NTU Centre for Contemporary Art, Singapore
Melbourne Art Book Fair
, National Gallery of Victoria, Melbourne
2018
Melbourne Art Book Fair
, National Gallery of Victoria, Melbourne
Sydney Paper Contemporary
, Carriageworks, Sydney
HOB/ART Book Fair
, Salamanca Arts Centre
,
Hobart
2017
Volume Art Book Fair
, Artspace, Woolloomooloo, Sydney
ABBE
, Queensland College of Art, Brisbane
Museum of Contemporary Art Zine Fair
, Sydney
Melbourne Art Book Fair
, National Gallery of Victoria
Buku Mini #2
, Jogjakarta, Indonesia
2016 P
rint Space
as part of Abbotsford Convent Open Spaces, Abbotsford
Melbourne Art Book Fair
, National Gallery of Victoria, Melbourne
2015 V
olume Art Book Fair
, Artspace, Woolloomooloo, Sydney
INDIVIDUAL
2020
Tarkine In Motion,
Long Gallery, Hobart
2019
Fremantle Arts Centre Print Award
, (finalist) Fremantle Arts Centre, Fremantle
Tarkine In Motion,
Long Gallery, Hobart
2018
Impressions
, Australian Print Workshop, Fitzroy
Landscapes Revisited
, Brunswick Street Gallery, Fitzroy
Peer
, Australian Print Workshop, Fitzroy
2017
Fremantle Arts Centre Print Award
, (finalist) Fremantle Arts Centre, Fremantle
Contemporary Impressions
, Brunswick Street Gallery, Fitzroy
2015
Bookmarked
,
Stills Gallery, Sydney
2014
Artist's Books (reprised)
, George Paton Gallery, Melbourne
2013
Love Forests,
Gallery One Three, Melbourne
2012
Selected VCA Graduates
, Boom Gallery, Geelong
2011
VCA Graduate Exhibition
, Victorian College of the Arts and Music, Melbourne
PROUD
, Margaret Lawrence Gallery, Melbourne
Success
, VCA Student Gallery, Melbourne
2010
PROUD
, Margaret Lawrence Gallery, Melbourne
Hands On Hands Off,
VCA Student Gallery, Melbourne
2009
PROUD
, Margaret Lawrence Gallery, Melbourne
2008
Linden Postcard Show
, Linden Gallery, Melbourne
2007
All That Would Be,
LaTrobe Street Gallery, Melbourne


SELECTED COLLABORATIVE EXHIBITIONS

2017
TIP
, (with Sian Darling), Connections Art Space, Dandenong
2013
Out of Sight
, (with August Carpenter), the Henley Club, Melbourne
2012
Parallel Drift
, (with Sarah Galdes), Seventh Gallery, Melbourne
2011
Drawing Translations
, (with Sarah Galdes),Donkey Wheel House, Melbourne

PUBLICATIONS AND ARTICLES

2019 '
Disruption
' comic published by
Going Down Swinging
Cartoons published in Meanjin (Autumn and Winter editions)
2016 Brollo, Diedre:
'
Fumbling Hands and Phantom Limbs: The Photograph, the Hand, and the Artist's Book,'
Journal Of Artists' Books: 39, pages 40-43
2012 '
Ideas in an Age of Uncertainty'
, Criterion, Issue 3 (author)

ILLUSTRATION AND VISUAL SCRIBING EVENTS

2018
'Walk This Way'
poster illustration, Friends of the Earth Melbourne
2017
'Walk This Way'
poster illustration, Friends of the Earth Melbourne
'From The Consumer City To The Ecocity',
The Rescope Project, Ecocity World Summit
'Renewable Energy and Beyond'
, The Rescope Project, Sustainable Living Festival
'Redefining Progress'
, The Rescope Project, Sustainable Living Festival
Satyajit Das 'Beyond Growth As We Know It'
, The Rescope Project, State Library of Victoria
2016
'Economic Growth To Save The Planet
', The Understandascope, Sustainable Living Festival
'Preventing Crimes Against Nature'
, The Understandascope, Sustainable Living Festival
2015 Project illustrations for
Growing Ideas Awards
, Hume City Council
'In Conversation With Charles Eisenstein'
, The Understandascope, State Library of Victoria

COLLECTIONS

National Library of Australia
State Library of Victoria
LaTrobe College of Art and Design
Lenton Parr Music, Visual and Performing Arts Library, The University of Melbourne
Bibliotheca Librorum apud Artificem
CLIMARTE
Firbank Grammar School
SELECTED AWARDS
2011 Steve Cox Drawing award, Victorian College of the Arts and Music
PROUD Drawing Award, Victorian College of the Arts and Music
HATCHED, shortlisted, PICA
EMPLOYMENT
2020 - current CLIMARTE Board Member
2021 Program Coordinator, National Climate Emergency Summit (RESET.21 Series), Melbourne
2020 Program Coordinator, National Climate Emergency Summit, Melbourne
2019 Program Coordinator, Sustainable Living Festival Big Weekend, Melbourne
2016 Teacher, Advanced Drawing and Ideas,
LaTrobe College of Art and Design
, Melbourne
Teacher, Drawing, New York Art Tour with LaTrobe College of Art and Design, New York
2015-16 Intern and volunteer coordinator at CLIMARTE, Melbourne