HERE TODAY: DEFENDING TAKAYNA/TARKINE, 2019
Shown at St Helier's gallery, Abbottsford, as part of Climarte's biennale festival, ART+CLIMATE=CHANGE2019.
Photo credit: Jasmine Fisher
The Tarkine, or takayna, in the north-west of Tasmania is one of the last remaining tracts of Gondwanan rainforest in the world. While these forests have been recognised for their incredible cultural, historical and ecological significance, they are still a site of ongoing tension.
Here Today
points to the continued efforts of everyday people to protect these forests from logging over the past 12 months. As we bare witness to the tide of our own destruction, these small acts of resistance reflect the recurring conflict in our relationship with nature and each other, and force us to face uncomfortable truths about our time and place on this earth.
Here Today
is a reminder of our mistakes and failures, a celebration of our successes, an apology, and a message of hope.
Here Today
, by Sarah McConnell presents new print works commissioned for ART+CLIMATE=CHANGE 2019. For more information on saving takayna/Tarkine, visit the Bob Brown Foundation
website.
The View From Here,
2018
Sugarlift, aquatint, etching, 3 page fold-out artist book
Edition of 7
Here Today,
2019
16 monoprints on 250gsm Hahnemule paper
Defending takayna/Tarkine, 2019

Audio interviews with 5 forest defenders, 2019
15:00
Sound design and editing by Stefan Niedermeyer and Sarah McConnell
FULL TRANSCRIPT HERE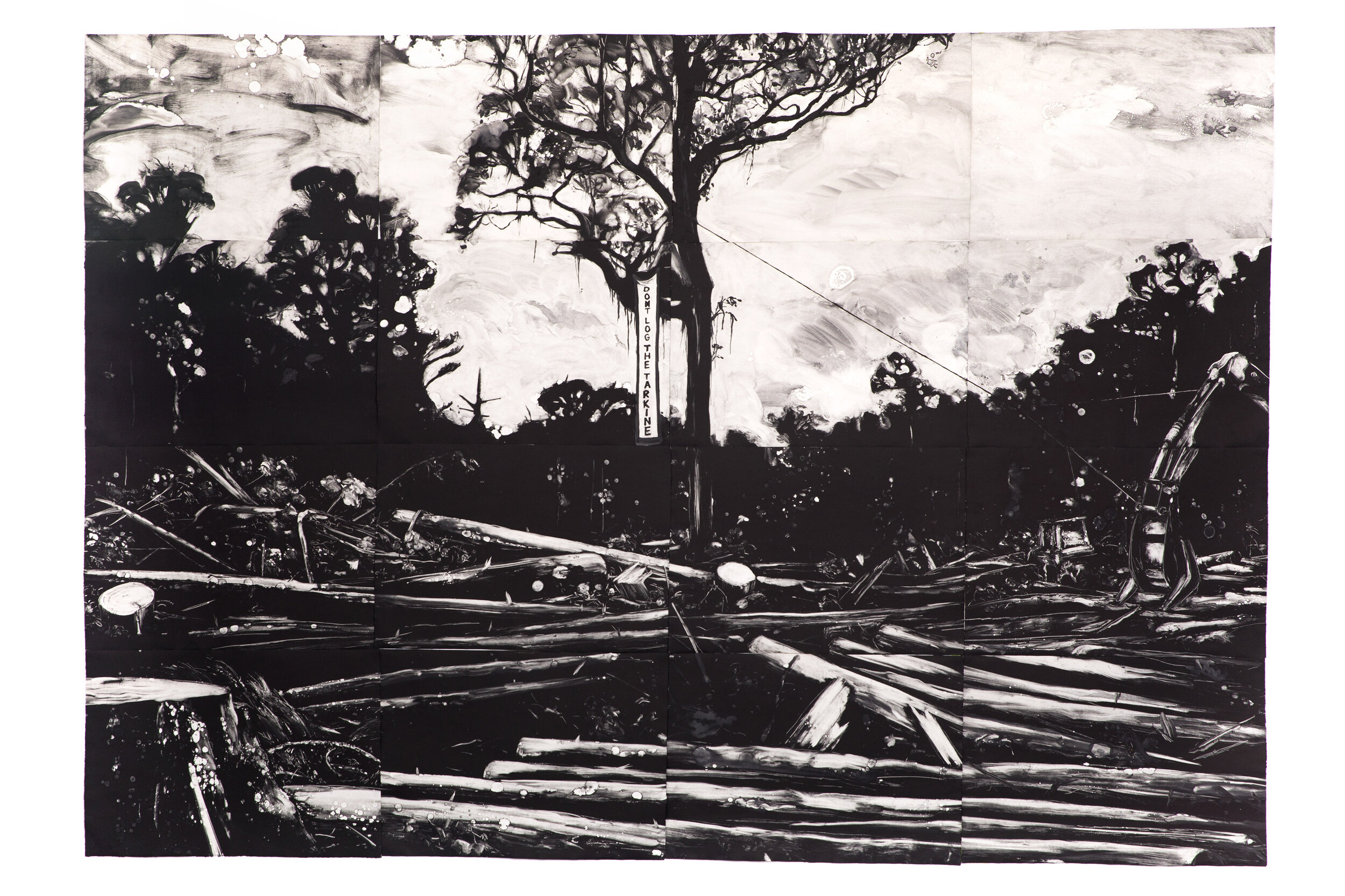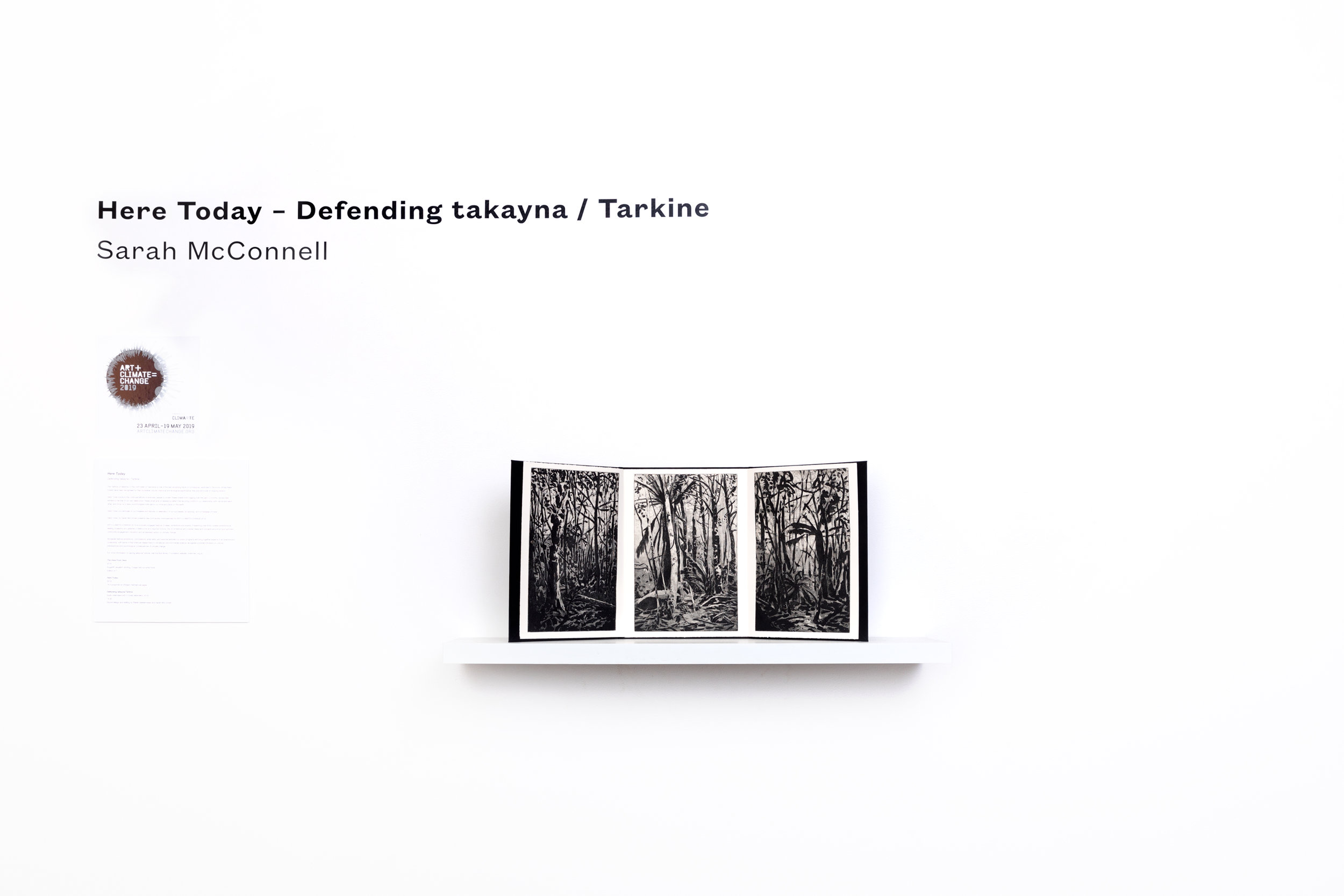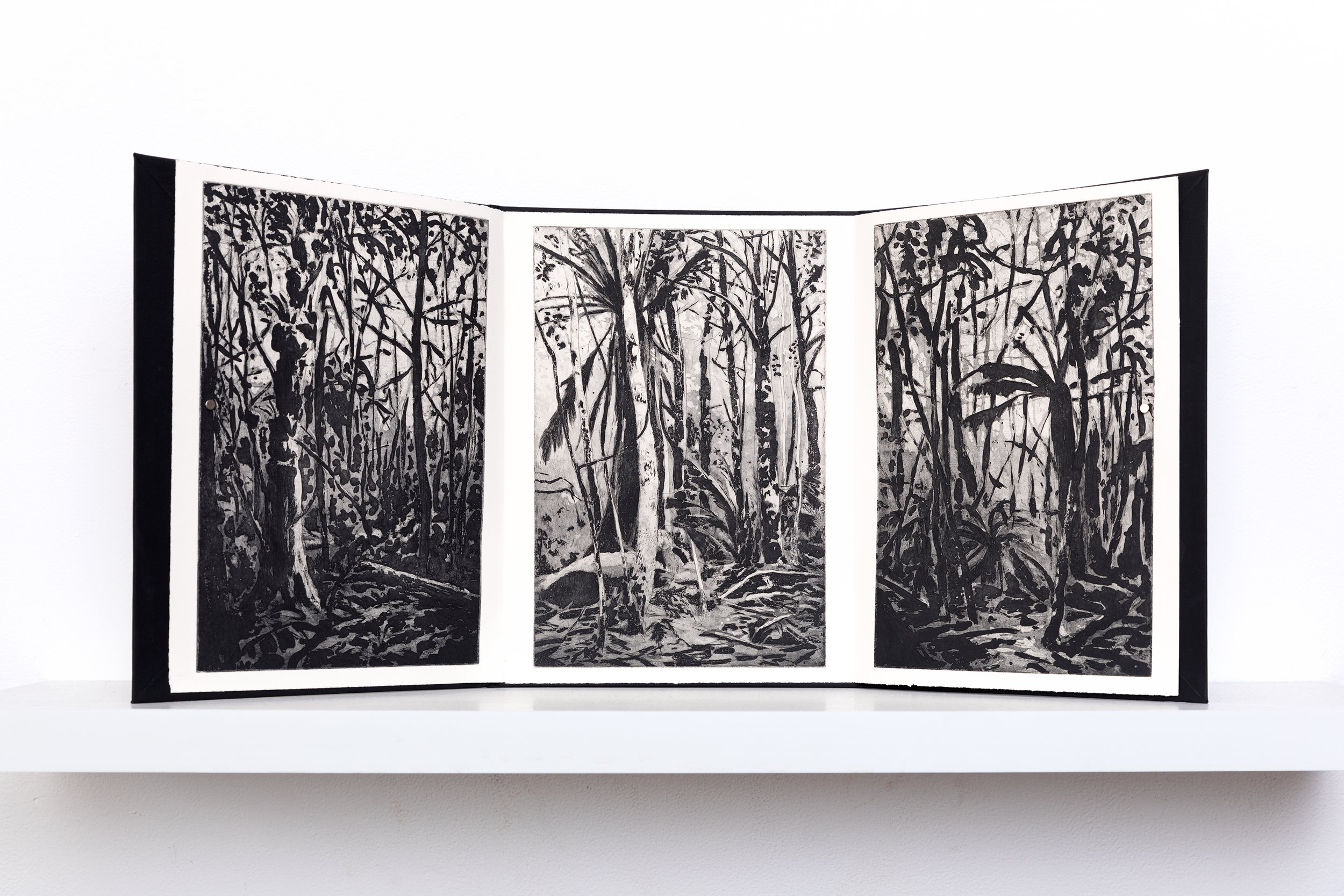 WHEN THE WIND CHANGES, 2017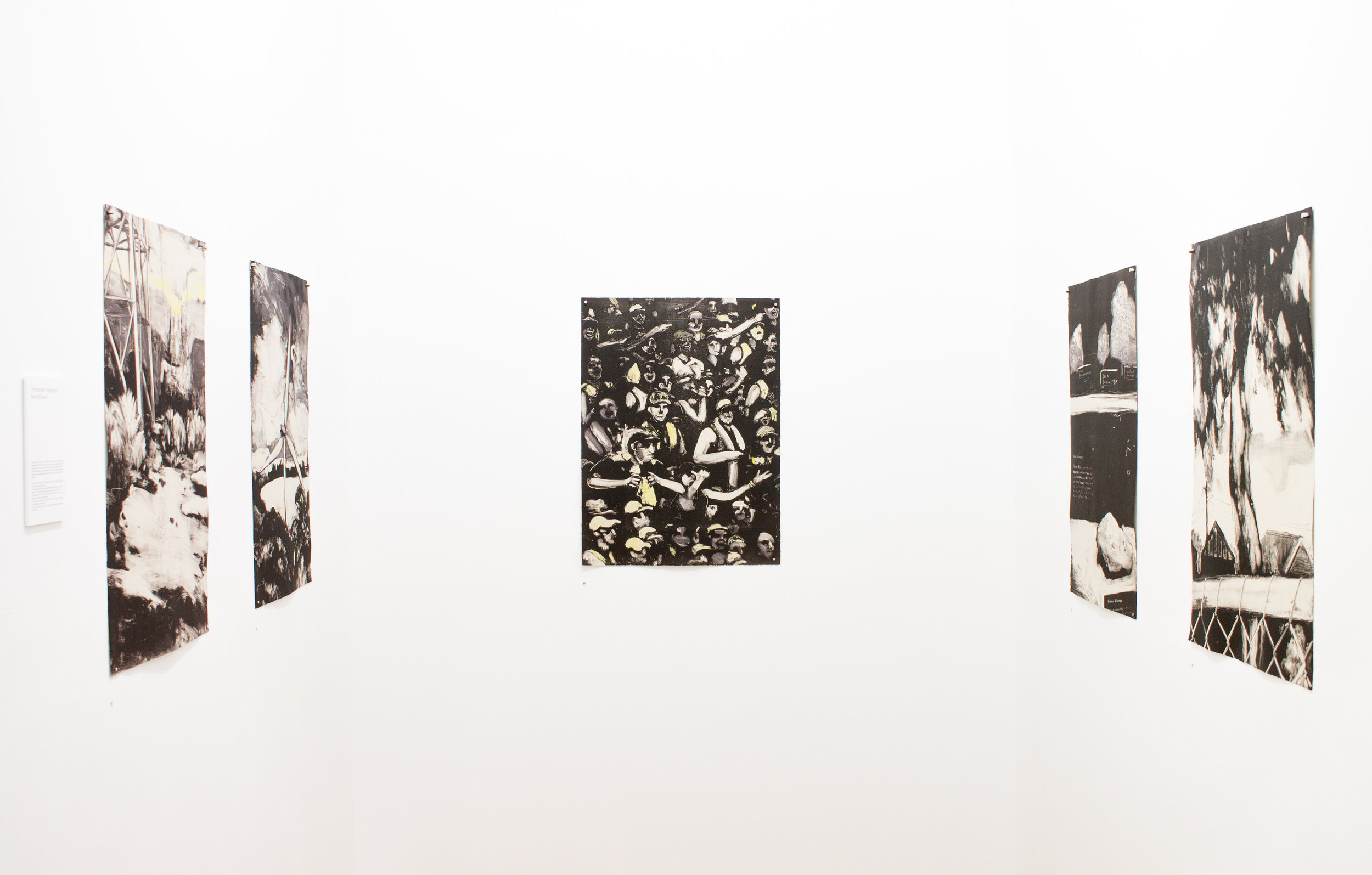 Monoprints on 250gsm Somerset paper, 56 x 76cm
$400 each
'When The Wind Changes'
is a reflection on our destructive relationship with the environment. Chosen from personal experiences, these images point to moments of humour and absurdity in the everyday as a reflection on our collective obliviousness to the severity of the path we find ourselves on and highlights our disproportionate response to the scale of the issues we've created.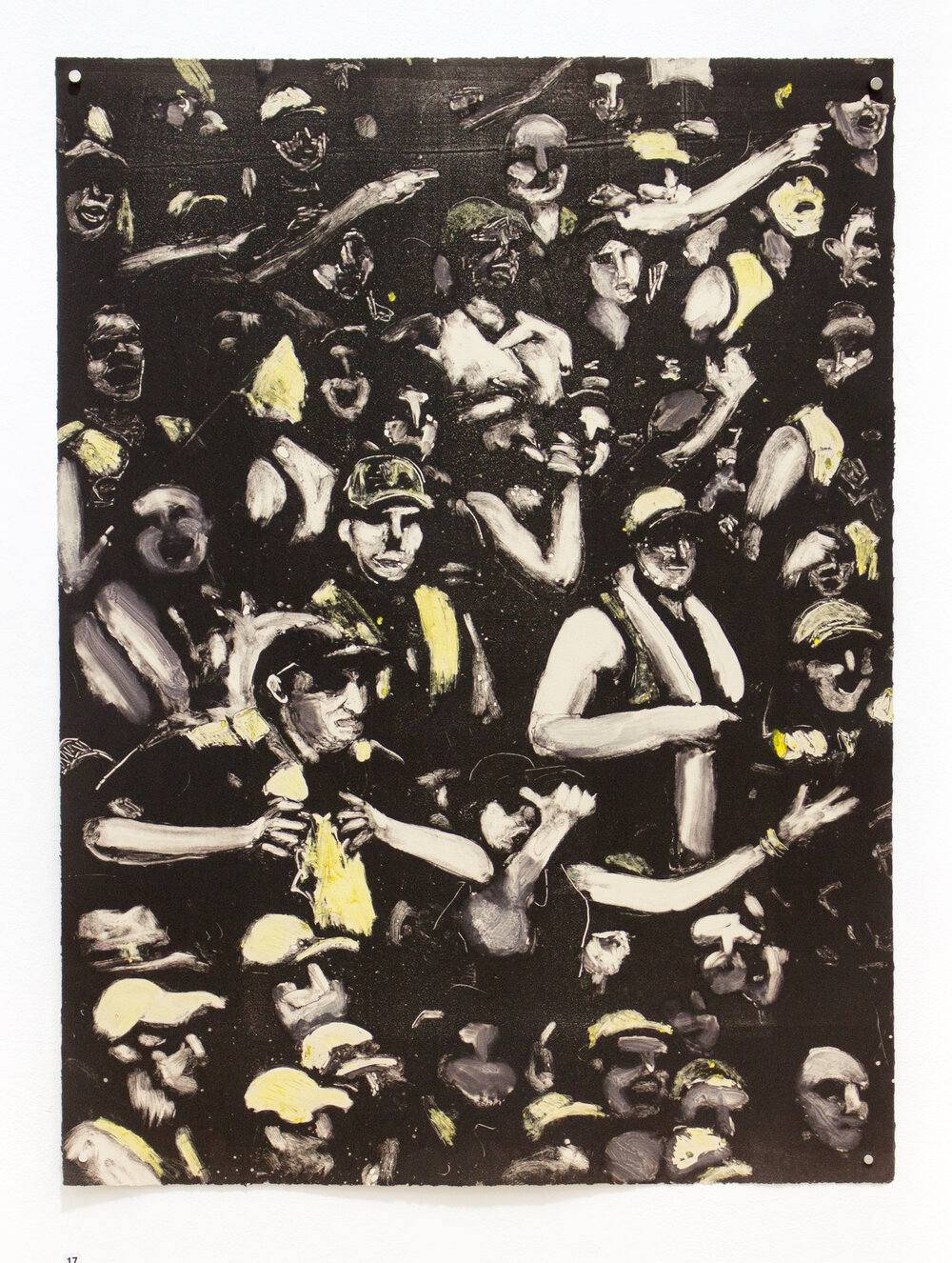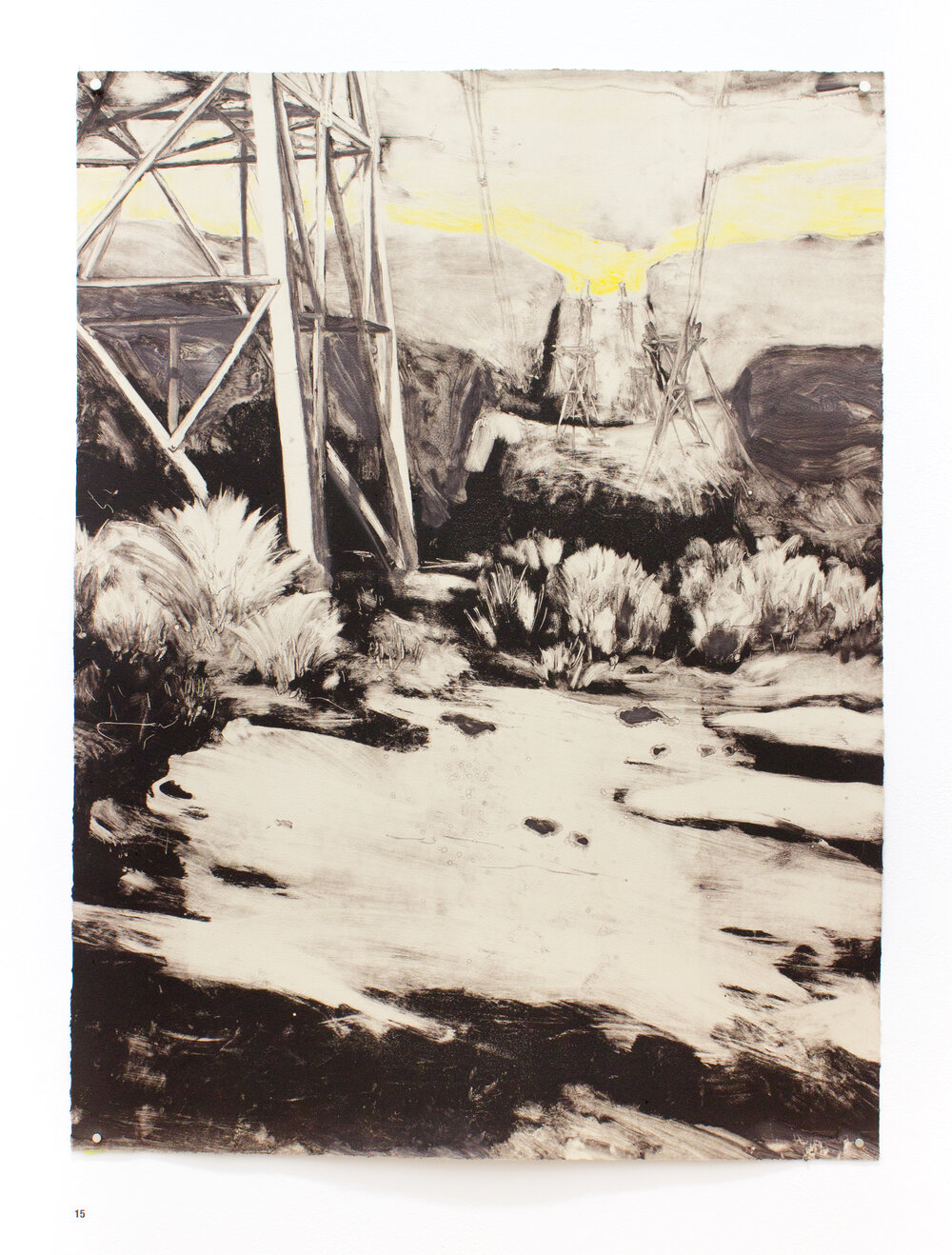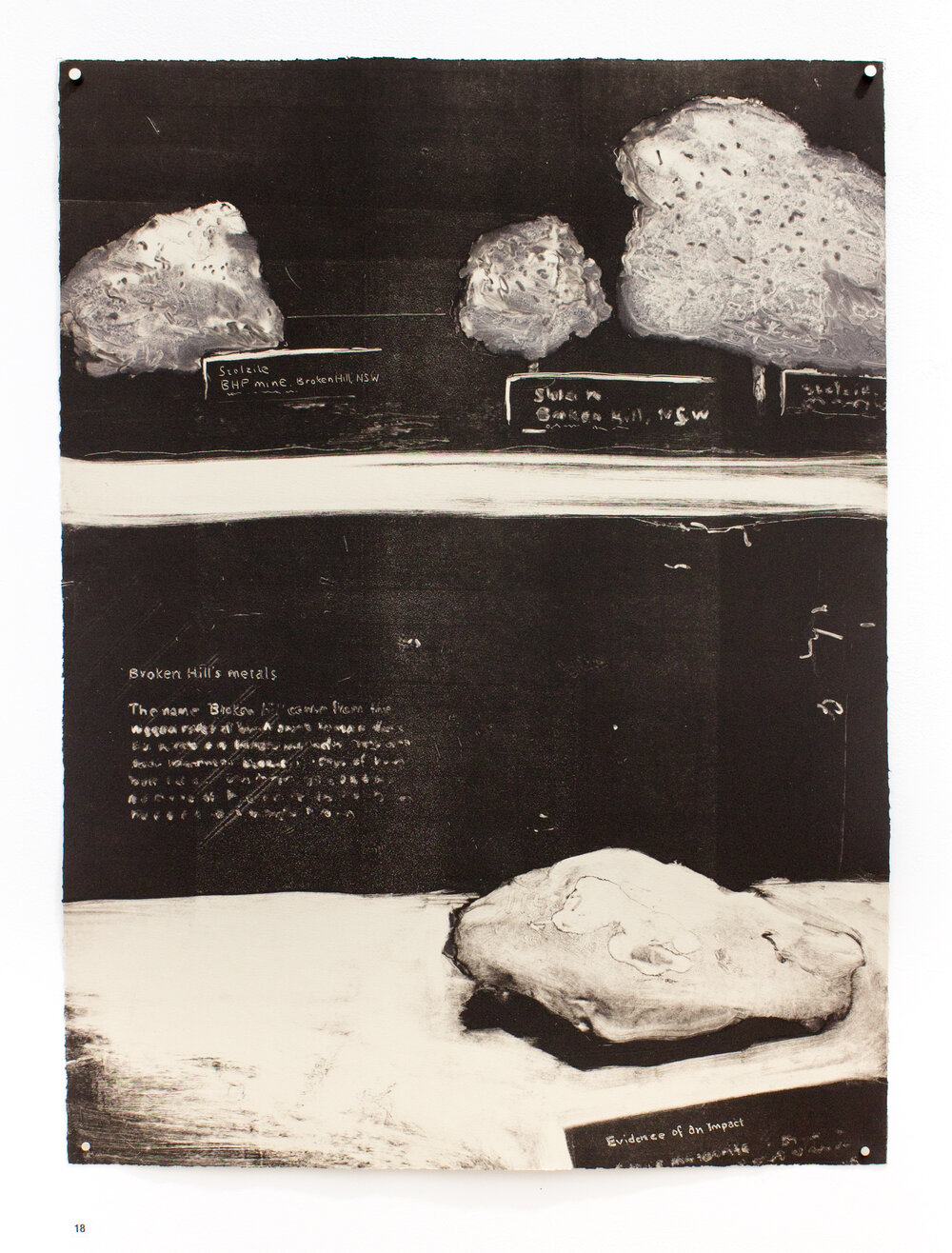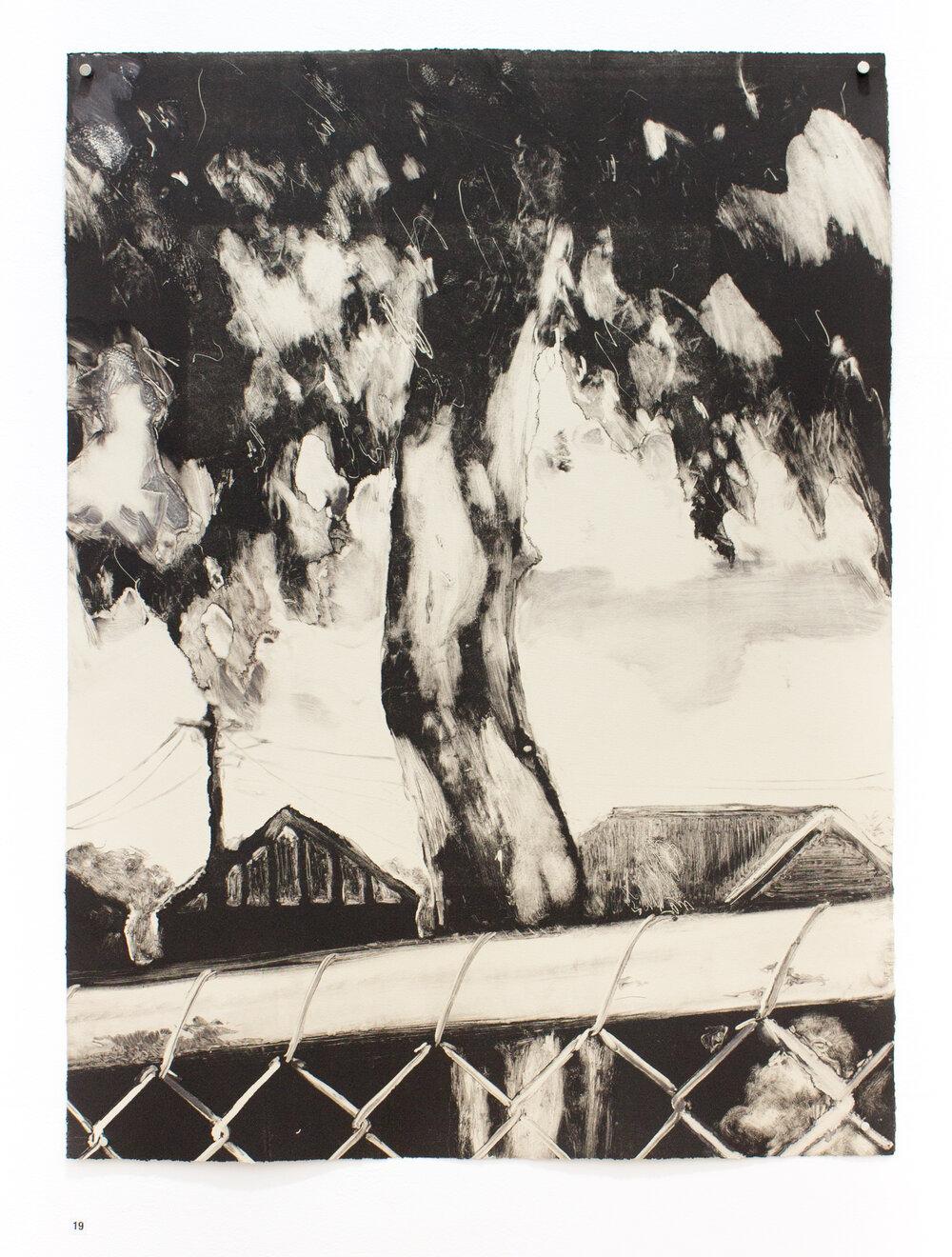 In order from right to left:


Train delays on the way to Ecocity


The Ecocity World Summit, a conference that brought together people from around the world to discuss the future of sustainable cities in dealing with climate change, was held in Melbourne in July 2017. I opted to catch public transport to the conference, but a 25 minute train delay on day one meant I arrived late. On day two of the conference, Al Gore received a standing ovation for proclaiming that green technology would save the day.
Evidence of an impact, sponsored by Rio Tinto
On a recent visit to the Melbourne Museum, I was bemused by the tactical framing of the rocks and minerals in the museum's permanent collection, 'Dynamic Earth', where many of the specimens had been donated by large corporate mining efforts from around the world. One piece, a meteorite, had a caption that seemed suitably titled 'Evidence of an Impact'. There was no discussion about the impacts of mining on environment, climate change, or indigenous land rights. This exhibition is 'proudly supported by Rio Tinto'.
Heating up at the G: the 2015 Toyota AFL Grand Final
The 2015 AFL Grand Final was the hottest on record, peaking at 31.3 degrees celsius and exceeding the predicted temperature by over 3 degrees. Looking back at reports, there seemed to be no connections made to climate change, despite an acknowledgement that the average temperature for October is 19.7 degrees and the string of days around 30 degrees was "pretty unusual" and "could affect the scores". Instead, the news reported that "the location of the high-pressure systems was the cause of the sudden heatwave".
Climate change disaster is biggest threat to global economy in 2016, say experts
Having visited Portland Victoria recently, the wind farms around the area seemed to signal a visible shift toward more environmentally conscious practices. I found out that Portland began manufacturing wind turbine blades in 2005, but In August 2007, the company announced it would close its near new plant with the loss of 130 jobs. The port's main exports include livestock, forestry and mining products, while importing aluminium, liquid pitch and fertiliser. The title of this piece was taken from a news report of the same name.
Wrong turn on the road to Mt Disappointment
On the way to go camping at Mt Disappointment in Victoria, my partner and I got lost and found ourselves at the top of another mountain overlooking a corridor that had been cut through the state forest to make way for high voltage powerlines. Stepping out of the car, the landscape was eerily silent, except for the unsettlingly loud sounds of electricity coursing through the cables.
B R E A K I N G, 2017

Series of 57 monoprints based on articles released in the Guardian newspaper about extreme weather events in the first 4 months of 2017. Printed on Japon paper. Presented as part of 'T I P' with Sian Darling.
24 x 32cm
$85 each
Full list of works
here
.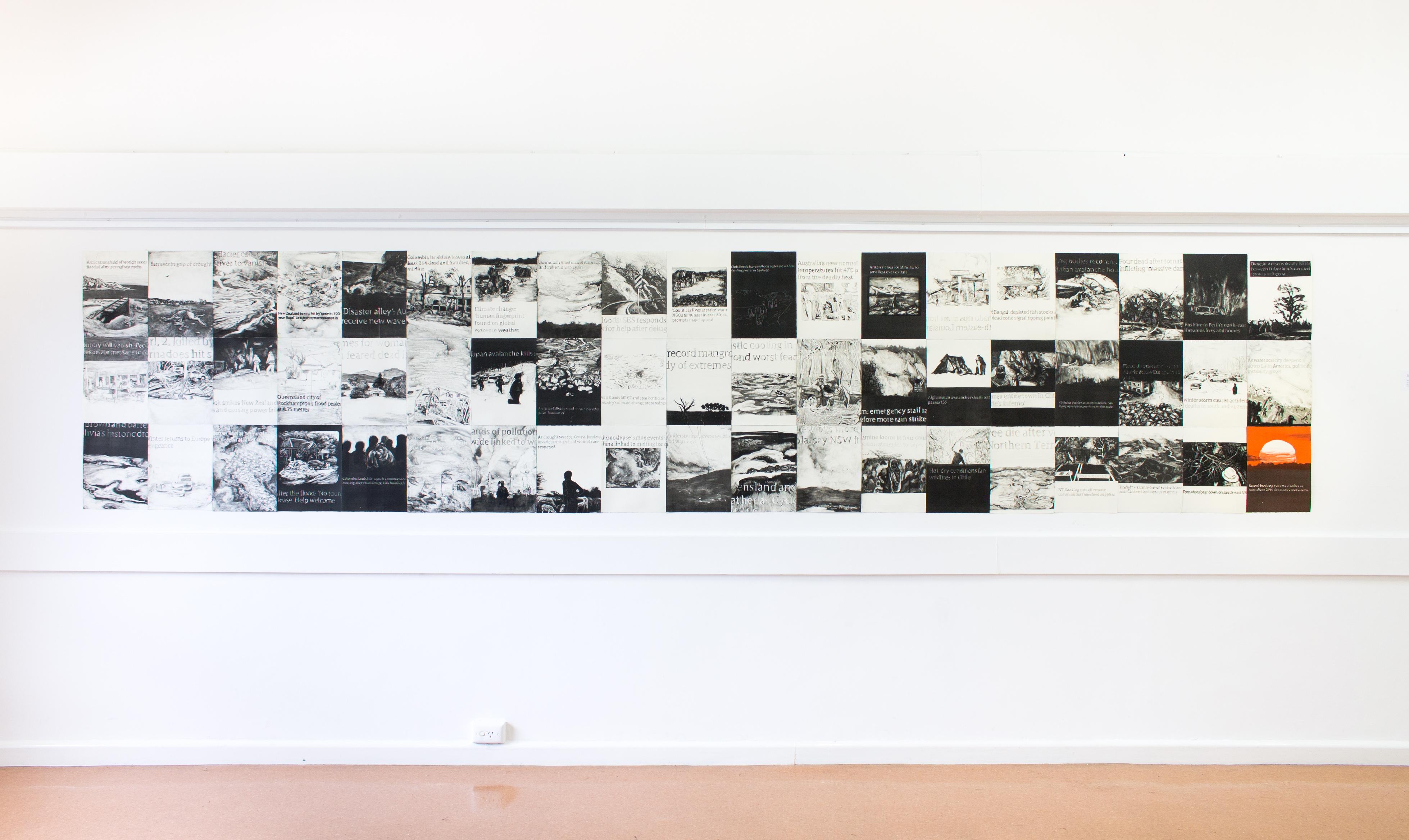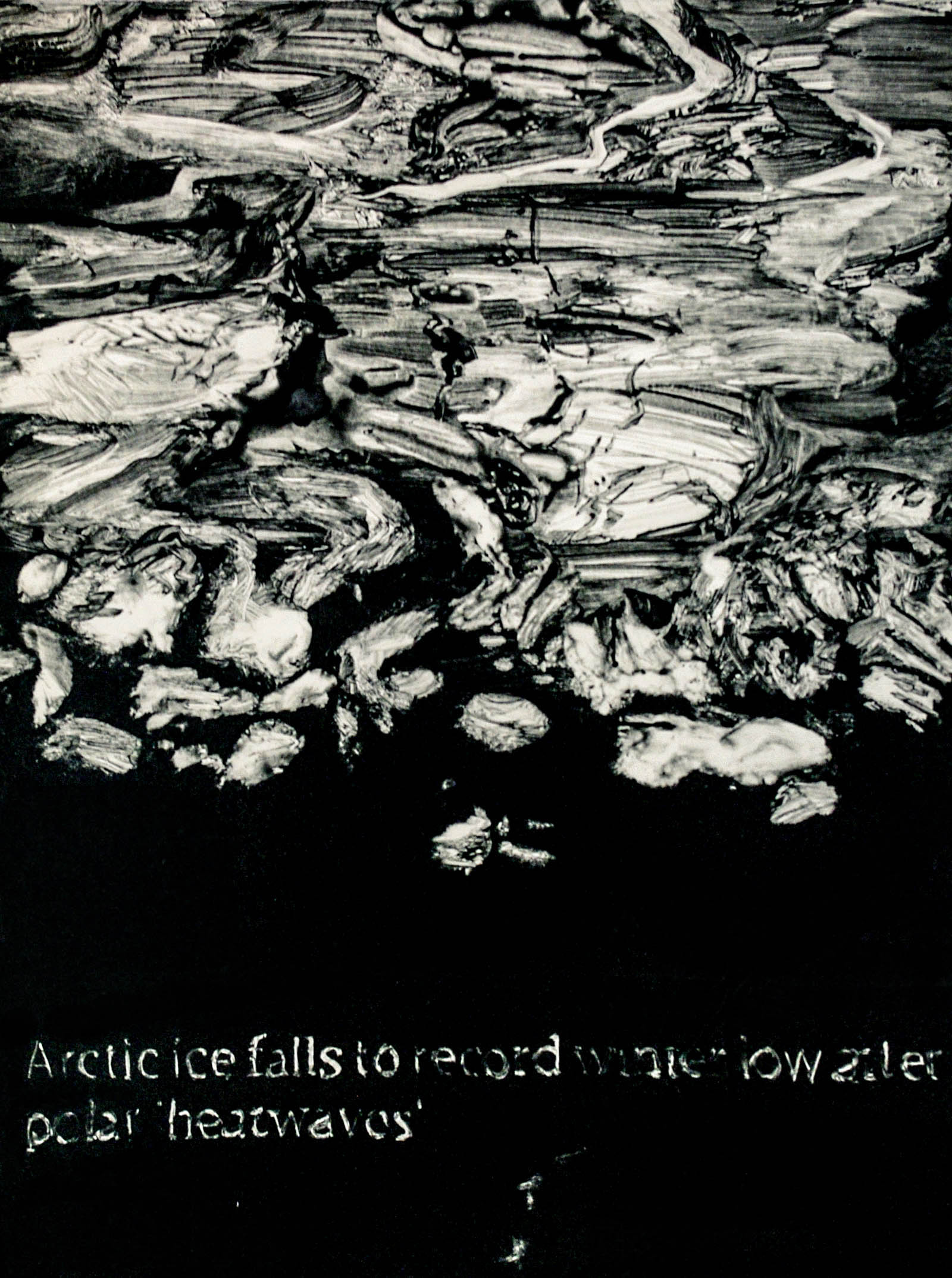 OUT OF SIGHT, 2013
Collaborative exhibition with August Carpenter.
Installation view at the Henley Club, Melbourne.